1952, Mary Kate is in the pits of despair and is ready to take her own life when a letter arrives that changes everything. Suddenly she is catapulted into wealth and decides to open a boarding house with a caring ethos which attracts women in need.
The Irish Boarding House is a novel set in Ireland in the 1950s. The historical and cultural aspects to the plot and characters felt authentic and brought the book to life.
Mary Kate is instantly easy to like. She was abandoned as a baby then gave up her own hopes and dreams to care for her elderly grandparents who had taken her in as a baby. Now alone in the world, she wanders from one boarding house to another, finding no hint of compassion or help. When she comes into an inheritance, Mary Kate is determined that other women should have a safe space to live in peace and comfort.
We meet a whole range of women who have signficant changes in their lives: new jobs, pregnancy, retirement. The personal situations of the various characters are easy to relate to and the emotions are clearly described. Mary Kate's life is given hope and new meaning as she helps others. The tone is uplifting and warm, perhaps a little saccharine but the overall effect is a lovely book in which women and their friendships are given a voice. It has a really strong message about helping others and the power of kindness and generosity of spirit.
The Irish Boarding House is an engaging and heart warming book to read and lifts the spirits as hope triumphs over adversity.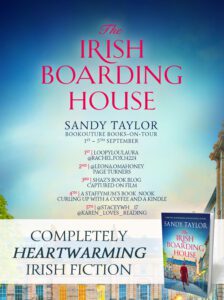 Media Pack
Author:     SANDY TAYLOR
Book:      THE IRISH BOARDING HOUSE
Publication Day:  SEPTEMBER 1st 2022
Buy link(s)
Description:
24 Merrion Square. The house stands empty, the old stone steps overgrown with thorny rose bushes. But Mary Kate feels a deep connection to the neglected, silent rooms. Could this be the place to help her heal?
Dublin 1952. When Mary Kate Ryan receives a surprise inheritance from the woman who abandoned her as a tiny baby, she's stunned. All her life, she has longed to know why her mother disappeared, and now she's devastated to realise that every lonely night she spent without a home or family of her own, her mother knew exactly where she was.
Mary Kate is about to refuse the money when she sees a beautiful, deserted house for sale and something sparks in her heart. She will reawaken it, as the Dublin Boarding House for Single Ladies, and provide a shelter for others as lost and alone as her. Can she help the two young girls left at the local orphanage, desperate for a home of their own? Or the pregnant teenager on the run, who only wants to keep her baby safe?
The boarding house brings Mary Kate love and friendships she never dreamed of, but just as her heart is about to burst with joy, a new guest arrives. The stern older woman won't speak about her past, but when Mary Kate uncovers her story, it reveals a devastating secret about her mother. With her life in turmoil once more, can Mary Kate draw on the strength of the women in the house to help her face her past, or will the tragedy she uncovers spell disaster for them all…?
A heart-wrenching story full of family secrets. Perfect for fans of Jean Grainger, Lisa Wingate and Diney Costeloe.

Author Bio:
Sandy Taylor grew up on a council estate near Brighton. There were no books in the house, so Sandy's love of the written word was nurtured in the little local library. Leaving school at fifteen, Sandy worked in a series of factories before landing a job at Butlins in Minehead. This career change led her to becoming a singer, a stand up comic and eventually a playwright and novelist.
Author Social Media Links