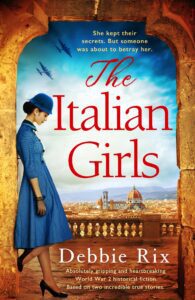 Isabella Belucci is a famous actress and Livia Moretti is a student. Both of their lives are turned upside down by the Second World War and they face danger and even death. Both women choose to fight the oppression of Nazism as well as expectations based on age, gender, class and career.
The Italian Girls is a powerful book. Once again, Debbie Rix has used real stories as the basis for her novel which gives it an authenticity and human spark that is often missing from historical novels. I felt that the use of historical characters added to the gravitas of the plot and I enjoyed researching these people to find out more about their real lives.
The plot is gripping as Livia and Isabella become embroiled in secret work to undermine Fascism and German occupation. This is fraught with danger for both women and made me feel very tense with anticipation and dread.
The two main characters are so different from each other and, although I initially warmed to Livia, by the end I felt equally involved with both leads. The women have a connection with the same man Vicenzo and the relationships change over the course of the book.
Through the eyes of Livia and Isabella, we see the best and worst of humanity. Brutality and murder are pitted against bravery and sacrifice. Perspective is also important as terrible acts are planned and carried out in the name of fighting oppression, yet these often lead to more suffering in the short term.
The Italian Girls is a thoughtful and thought-provoking book and I found myself immersed in 1940s Italy as the descriptions were so vivid and realistic.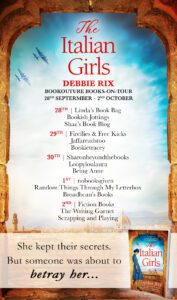 The Italian Girls book description:
The sun hung low in the sky, casting pink light all over the city. A faint breeze blew over the rooftops, as flocks of starlings swirled above her, swooping and diving in unison. It seemed unimaginable that, even now, German soldiers were marching along the streets below. It was time, she decided, for direct action. It was time to fight back.
Each morning Livia Moretti makes her way from an apartment overlooking Florence's famous Duomo to a nearby café, where she drinks espresso and reads the newspaper. To the crowds of tourists who pass by, snapping selfies, nothing about Livia will be memorable. She is simply an old lady. They walk on without knowing the part she played in ensuring the future of this beautiful city. And to Livia now, those dark days feel very far away too.
But today, when she opens the paper, she sees a name she has not heard for a long time. A name that will bring memories flooding back of Nazi troops marching through the city and the dangers she faced as a young woman, carrying out secret missions for the resistance.
Isabella Bellucci.
A siren of the silver screen, Isabella cultivated all the right connections to ensure her rise to stardom. But when Rome falls to the Nazis, Isabella is suddenly faced with the choice between protecting herself, and all she has worked for, or sacrificing everything to save the man she loves.
As the war rages across Europe, a terrible misunderstanding causes the fates of Isabella and Livia to become forever intertwined. And each woman must decide what they're willing to risk, to protect the ones they hold dear from a brutal enemy.
Inspired by the incredible true stories of two women in wartime Italy, this is a heart-wrenching and unforgettable tale of love, resistance, betrayal and hope. Fans of Kate Furnivall, Fiona Valpy and My Name is Eva will be absolutely gripped by this sweeping Second World War novel.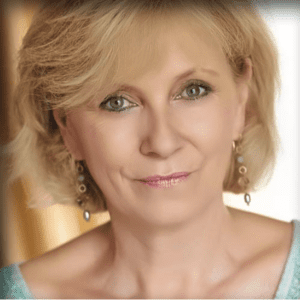 Author Bio:
Debbie Rix has had a long career in journalism, including working as a presenter for the BBC. Her first novel, The Girl with Emerald Eyes was set around the building of the tower of Pisa and she has since released Daughters of the Silk Road and The Silk Weaver's Wife. Debbie writes heartbreaking historical novels about love, tragedy and secrets.
Buy Links: