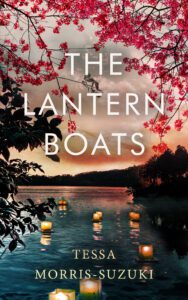 Elly Ruskin and her husband Fergus are living in post war Japan. They are trying to adopt a child but Elly is worried that Fergus may not be faithful. The woman she suspects is the mysterious Vida, a poet with a political past. Meanwhile young Kamiya Jun is recruited by military officers and forced to follow Vida and note all her actions, reporting all to his spy masters.
The Lantern Boats is an historical novel set in 1951. The book begins with a body floating along the river with the little lantern boats that have been released to honour the recent war dead. We are then taken back 5 months to see young Jun working on a smuggling boat when he is caught and fearing for his life, agrees to spy on a woman with potential criminal intent.
I am a little unclear about the political situation in Japan in the 1940s and 50s but it seems that the country was occupied by Americans who were fearful about political stances during the war as well as postwar communism due to the proximity of China and Korea.
It took me a little while to get into this book but by halfway I felt that I cared about the characters. Would Elly get the child she has been hoping for? Has Fergus been having an affair with Vida? Whose is the body with the lantern boats? Will Jun discover something vital about Vida?
The themes of passion and duty, family and betrayal resonate through the pages. Elly, Fergus, Jun and Vida are all likeable characters but there is tension and danger threatening each of them. The domestic life of Elly and Fergus and their longing for a child is heartbreaking, while Vida and Jun's activities could have major public repercussions.
The Lantern Boats had an interesting mix of history, personal and international politics, emotion and action.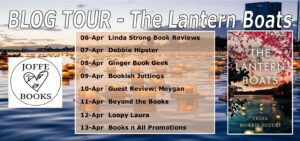 THE LANTERN BOATS by Tessa Morris-Suzuki
A WEB OF ESPIONAGE AND BETRAYAL IN OCCUPIED JAPAN DRAWS IN TIGHT.
Tokyo, 1951.
Elly Ruskin is still struggling to settle. Half-Japanese by heritage, Elly was repatriated to Japan after the war, but Tokyo is a city she barely knows. And now she's certain her new husband is having an affair with the enigmatic Japanese poet known as Vida Vidanto.
Yet Elly is not the only one suspicious of Vida.
The occupying American forces have their eye on her too. Kamiya Jun has been recruited to spy on the poet and find out why Vida spent her war years in China. He is perfect for the part. A war orphan, he has honed the art of becoming invisible in order to survive. But following Vida leads Jun to the Ruskins. And he soon finds himself delving into their private lives as well.
Then Vida Vidanto is found murdered in her apartment. Is it a case of mere jealousy or has there been a betrayal of a more dangerous kind?
Because Vida had more than one secret worth killing for.
A powerful, absorbing mystery that will be consumed by fans of Victoria Hislop, Dinah Jefferies, Fiona Valpy, Robert Goddard, Kate Morton and Louise Douglas.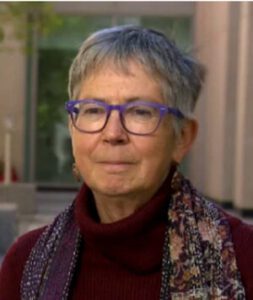 TESSA MORRIS-SUZUKI (T.J. ALEXANDER)
Tessa Morris-Suzuki was born in England and grew up there and in the Netherlands. She later lived for a couple of years in Japan and travelled widely in Asia, but has spent most of her adult life in Australia, where she works as a historian and writer. She currently divides her time between a small village on the south coast of New South Wales and Canberra, where she is Emeritus Professor of Japanese History at the Australian National University. She has published one historical crime novel – The Searcher – set in 19th century London (published by Joffe Books, under the pen-name T. J. Alexander).
FOLLOW TESSA ON