The Last Charm begins with Leila writing an email. She has lost her charm bracelet and wants to prove ownership to the woman who has found it. We are then taken back in time to see how Leila and Jake's life and love story emerged…
Simply beautiful.
I suppose you need more detail than that!
Leila and Jake both have an unhappy start to life. Jake's father is abusive and Leila's mum abandons her family. The emotional trauma from this shapes the people the children become and their actions over the course of the book.
The chapters from Leila's perspective were in the first person as I think this helps to make her more vulnerable and likeable. Otherwise, I'm not sure I would have had as much sympathy as she often acts selfishly and concentrates on what she has lost rather than what she has.
Jake's story just broke my heart. Abused by a violent dad, desperate to save his mum, feeling like an outcast due to his odd coloured eyes and cleft palate operation scar. He is an outcast, desperate to feel normal. His friendship with Leila's grandad gets his life back on course and he clearly loves Leila but she has no idea.
This is not always an easy book to read as it grips your heart and makes you feel strongly for the characters. I wanted to shout at Leila to notice Jake's adoration and appreciate his thoughtfulness. It broke my heart to see her reject him several times after he repeatedly put her happiness above his own.
Grief is a significant theme in The Last Charm. The loss of family members, hope and talent are all covered sensitively. Forgiveness is another crucial theme, the need to forgive others but also yourself.
The chronological narrative showing the gifting of the charms is quite unique and works so well to convey the plot. I spent the last half hour struggling to read as the tears running down my face made it almost impossible to see the words.
It is not hyperbole to say that it was a privilege to read this book and I can't wait to see what author Ella Allbright writes next.
One More Chapter has organised a readalong of The Last Charm so head over to Twitter, Facebook and Instagram to check what others are saying about this stunning novel: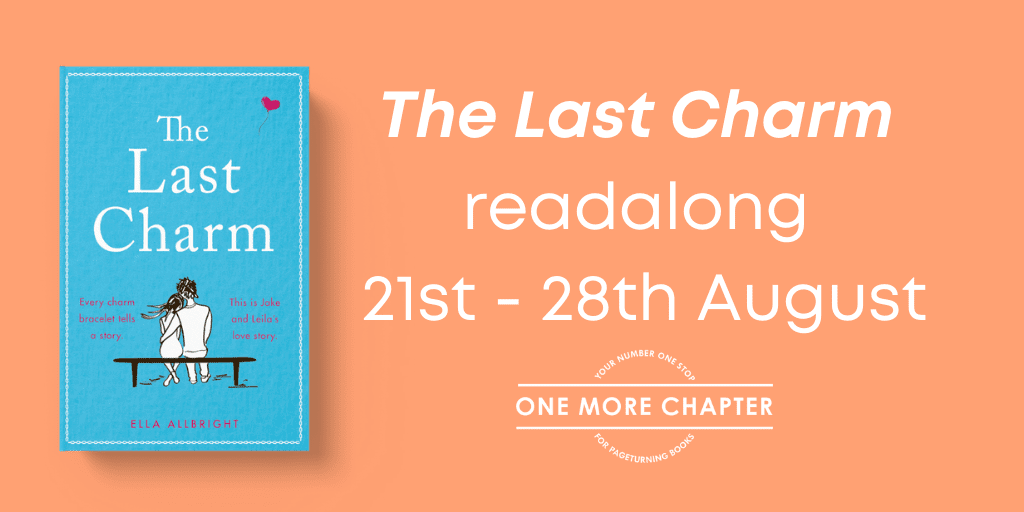 The Last Charm book blurb
Leila's charm bracelet tells a story of love, a story of loss, a story of hope.
This is the story of her… and the story of Jake.
When Leila Jones loses her precious charm bracelet and a stranger finds it, she has to tell the story of how she got the charms to prove she's the owner. Each and every one is a precious memory of her life with Jake.
So Leila starts at the beginning, recounting the charms and experiences that have led her to the present. A present she never could have expected when she met Jake nearly twenty years ago…
Biography
A self-confessed reading addict, Ella Allbright writes commercial women's fiction set in her beautiful home county of Dorset. Her first novel in this genre – The Last Charm – will publish in August 2020 (ebook) and November 2020 (paperback) with One More Chapter, a division of HarperCollins. She's currently hard at work on her next book, and is represented by agent Hattie Grünewald at The Blair Partnership.
Ella also writes as Nikki Moore, the author of the popular #LoveLondon romance series. A number of the novellas featured in the Top 100 short story charts on Kobo and the Top 20 in the Amazon UK bestsellers Holiday chart, and in 2018 the collection was released in Italy. Her first published work was the short story A Night to Remember in the best selling Mills & Boon / RNA anthology Truly, Madly, Deeply. Her debut romance Crazy, Undercover, Love was shortlisted for the RNA Joan Hessayon Award 2015.
When not writing or reading, she can usually be found working in her HR day job, walking the family's cute beagle puppy or watching a Netflix series!