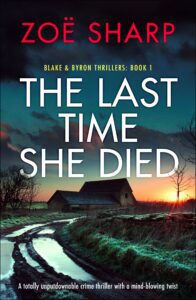 Blake Claremont disappeared 10 years ago but now arrives home on the day of her father's funeral. But is she really Blake? A Met Detective is in town: John Byron is visiting his former student PC Jane Hudson but does he have an ulterior motive for being there?
The Last Time She Died is a police and crime thriller and the cover hints that this is the start of a new series.
John Byron is on medical leave from his career in the Met. He travels to visit his former student Jane in Derbyshire and attend the funeral of local dignitary Gideon Fitzroy. Everyone is shocked when Blake Claremont, Gideon's daughter returns after a whole decade away. Where has she been and why is she back?
Byron is unofficially investigating Gideon's death but not letting the local police know. Gideon had left his role as MP quite suddenly before his death in a car crash. The crash was declared an accident but Byron's superiors want to be sure. He is therefore on hand as events unfold with Blake's reappearance.
The book is written in the third person and we see events covering a wide range of characters so that we can see their perspectives. There is plenty of tension as Blake's reappearance threatens the stability of Gideon's second family especially with a considerable inheritance at stake. Blake's identity is in doubt and we see her mysterious conversations with other peripheral characters that make us question her motives.
The Last Time She Died has plenty of mystery strands wound together to make an intriguing plot. I enjoyed the developing relationship between Byron and Blake and look forward to the next book.

MEDIA PACK
Book: The Last Time She Died
Author: Zoë Sharp
Pub Day: Oct 20th 2021
Buy Links: 
Audible:

 
About the Book: 
She came back on the day of her father's funeral, ten years after she vanished. But she can't be who she says she is…
When Blake disappeared as a teenager, on a cold dark night, her father never reported her missing. She is presumed dead.
Now, ten years later, a young woman with white-blonde hair sits comfortably in the family living room and smiles at the shocked faces around her.
"Don't you recognise me?" she says. "I'm Blake."
Detective John Byron isn't sure whether she's telling the truth. But as he investigates, he soon realises no one is happy to see her.
And the people who should be welcoming her back with open arms know she can't be Blake. Because they killed her the night she vanished…
Didn't they?
From the bestselling author of the Charlie Fox books, The Last Time She Died will have you gripped until the last mind-blowing page. Fans of Cara Hunter, Kendra Elliot and Rachel Abbott will love this action-packed crime thriller.

Author Bio and Social Media 
Zoë Sharp opted out of mainstream education at the age of 12 and wrote her first novel at 15. She went through a variety of strange professions before becoming a photojournalist in 1988. It was after receiving death threats in the course of her work that she started writing the first of her award-winning crime thriller series featuring Special Forces dropout-turned-bodyguard, Charlotte 'Charlie' Fox, which has been optioned for film/TV.
When not travelling, crewing yachts, riding motorcycles or improvising everyday objects for self-defence purposes, she can be found renovating houses or international pet-sitting. Find out more and sign up for her VIP list at www.ZoeSharp.com
Zoë can also be found here: