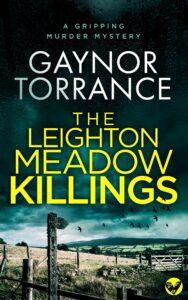 TRIGGER WARNING: rape and self harm
A young woman is abducted and trafficked to the UK. She makes a daring escape but is killed by a crossbow killer. DI Jemima Huxley leads the case despite beings seven months pregnant following a rape.
The Leighton Meadow Killings is the fourth book in the DI Huxley series but the first that I have read. There are mentions of previous cases (but no spoilers) and also events from the past in the personal life of Jemima.
The book begins with the trafficking and death of a young Czech woman before moving onto the past to show us Jemima's rape. We then rejoin the present day as Jemima investigates the murder. It has taken place in the safe small Welsh village in which she lives so she feels almost violated once more.
The book is written in the third person to allow us to see the victim's perspective before her death as well as Jemima's. I think it was a good idea not to have first person persepctives as it would have been too rawly emotional with the rape content.
The plot and investigation develop at a reasonable pace. Jemima is a character who is easy to like so we readers are keen for her to succeed personally and professionally. The style of writing is easy to read and there is a good mix of description, dialogue and the characters' emotion.
The Leighton Meadow Killings is an enjoyable detective thriller and I would like to read more by this author.

THE LEIGHTON MEADOW KILLINGS
MEET DETECTIVE INSPECTOR JEMIMA HUXLEY IN THIS BRILLIANT NEW CRIME SERIES FULL OF STUNNING TWISTS.
Leighton Meadow is an idyllic village in the Vale of Glamorgan. But evil lurks beneath its tranquil surface.
A woman is found dead in the village church. She thought she'd found a sanctuary from her killer. But they found her in the end.
And they shot her through the heart with a crossbow.
The locals all clam up when questioned. Detective Jemima Huxley is worried that they're hiding something — but what?
The dead woman turns out to be a Czech student. She went missing on a night out with friends.
She was doing well at uni. She came from a good family. How did she end up dead in a Welsh church?
And where are the other missing women?
Detective Huxley must find them before it's too late.
A BRAND-NEW, RACE-AGAINST-TIME CRIME THRILLER THAT WILL KEEP YOU UP ALL NIGHT.
Readers of Simon McCleave, Rachel McLean, Ann Cleeves, Helen H. Durrant, Joy Ellis, Angela Marsons, L.J. Ross, J.M. Dalgliesh, Patricia Gibney, Mark Edwards and Lynda La Plante will love Gaynor Torrance's feisty and flawed protagonist DI Jemima Huxley.
WHAT READERS ARE SAYING ABOUT GAYNOR TORRANCE'S DI JEMIMA HUXLEY SERIES:
"This fast-paced thriller had me on the edge of my seat from the very beginning." Racquel
"Gaynor Torrance writes with such passion . . . leaves you wishing for revenge." Bob
"Absolutely brilliant. Read cover to cover in two days." Helen
"Riveting . . . I loved the surprise ending." Robin Smith
"A brilliant read, fantastic plot and story. I found it very hard to put down." Kaz
"Very engrossing. Looking forward to reading the next in this series." John.
MEET THE DETECTIVE
DI Jemima Huxley is a driven detective who cares deeply about getting justice for victims and their families. With a degree in psychology, she is intelligent, loyal, fearless — and a competent kickboxer. She enjoys trying to get into the mindset of the killer, often taking down violent suspects while her male partner hesitates.
But Jemima has a secret. When circumstances threaten to overwhelm her, she self-harms. Her inner turmoil hints at a troubled past. She has been married for seven years and is desperate for a baby, but it just hasn't happened. And this obsessive desire is what sets her on a destructive emotional rollercoaster.
ALSO BY GAYNOR TORRANCE
DETECTIVE INSPECTOR JEMIMA HUXLEY
Book 1: THE CARDIFF KILLINGS
Book 2: THE BRIARMARSH CLOSE KILLINGS
Book 3: THE CAERPHILLY MOUNTAIN KILLINGS
Book 4: THE LEIGHTON MEADOW KILLINGS

GAYNOR TORRANCE
Gaynor Torrance lives near Cardiff with her husband and their rescue cat, Cleo. The area is the setting for her Detective Inspector Jemima Huxley series of books. Like Gaynor, Jemima has a bachelor's degree in psychology. Though, apart from them both having a keen interest in human behaviour, that's where any similarity ends.
When she's not writing or glued to her Kindle, Gaynor enjoys listening to music, playing the piano, walking, travelling, and eating far too much chocolate.
FOLLOW GAYNOR ON