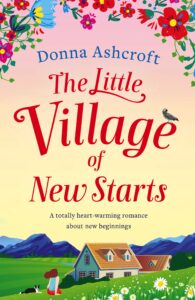 Evie Stuart is hiding away on the family farm in picturesque Scotland, trying to forget about her ex-fiance who turned out to be married with a baby on the way. She is scared of being judged by the people in the village so stays on the farm as much as possible.
Her family hire out yurts to guests and Callum arrives from America searching for his biological grandfather, armed only with his grandmother's letters as clues. He is a fire fighter, haunted by the family he couldn't save. Can Evie and Callum heal each other's hearts…?
The Little Village of New Starts is a warm and gentle romance novel with a dash of passion. Evie and Callum are both vulnerable and likeable so I found myself willing them to love each other!
The other character that really stands out is Agnes; Evie's nan is a great character, full of life and enthusiasm as well as wisdom. She has her own love interest and shows us that age is just a number and shouldn't be an impediment to finding love.
There is a subplot of the Jampionships: I am quite tempted to try making jam! This adds an extra dimension to the book and supports the main plot of Evie and Callum's developing romance alongside their mutual search for his grandfather.
There is a richness and warmth to the descriptions, plot and characters that make The Little Village of New Starts a real feelgood book.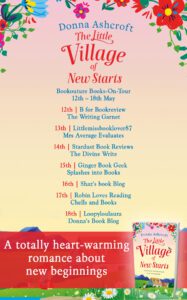 Donna. Ashcroft Media Kit:
Title:  T
he Little Village of New Starts
Publication Day: May 12th 2020
Author:   Donna Ashcroft
Buy  Links:
Description:
Sometimes turning everything upside down feels just right…
Evie Stuart is playing it safe. She lives on her family's remote farm in the Scottish Highlands and never ventures beyond the local village of Lockton. The most unpredictable events in her life are the antics of Miss Daisy, her grandmother Agnes's pygmy goat. She's learned that bad things happen when she's impulsive, and she's determined not to get burned again.
Callum Ryder is exactly the opposite of what Evie wants in her ordered world. Six foot two of reckless energy with twinkling eyes and a dangerously charming smile, he's a thrill-seeking American firefighter with no idea how to slow down. Callum enters Lockton like a whirlwind, fleeing his problems in New York City in search of the truth about his Scottish family.
Yet the pair might have more in common than they think… When the well-meaning Agnes persuades her to help Callum find his grandfather, Evie finds herself being challenged more than she has in years: from swimming in the fabled Bonnie Lochan to exploring an ancient castle and even entering the village jam-making championships. Turns out it's easy for Evie and Callum to connect when they let go of their fears and enjoy the most surprising summer of their lives.
But getting close to Callum so quickly soon starts to look like it might ruin everything for Evie: she's heading for a disaster exactly like the one that destroyed her a year ago when she fell for the wrong man and let him change her life. Maybe a fresh start isn't going to be so simple after all… Is the safe haven Evie's built about to crumble down around her?
A totally charming and moving story about being true to yourself, the power of new beginnings, and one magical summer that changes everything. Perfect for fans of Debbie Johnson, Carolyn Brown and Phillipa Ashley.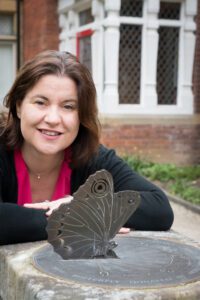 Author Bio:
Donna Ashcroft was born in London and grew up in Buckinghamshire. She went to university in Lancashire and, among other things, worked as a copywriter, buyer, waitress, secretary and marketing manager.
Donna wrote novels for over ten years before being published. She is a member of the Romantic Novelists Association and was a joint winner of the Katie Fforde Bursary in 2017.
Donna loves a happy ending and is never happier than when she's escaping into a romance novel or movie. When she's not reading or writing she'll probably be found hoovering … or negotiating with her teenagers about who is doing the washing up.
Author Social Media Links: