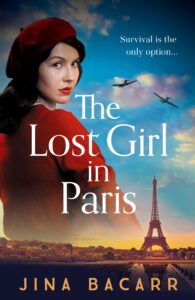 1940s France: Tiena Cordoba is a Roma teenager whose life is fraught with danger after the murder of her mother by the Nazis and the extermination of her people is underway. She travels to Paris and gains a new identity but will she ever be safe…?
The Lost Girl In Paris is a dual timeline historical novel set in the 1940s and 2003. In the more modern time, Madame de Cadieux is being interviewed by a young reporter, Emma, who hopes to find a link to Dachau and her own family history.
The two timelines are equally well developed with a strong female lead who features in both. Tiena/Angeline is a brave woman, proud of her Romani heritage but has previously refused to discuss her past. Now she feels she owes it to her people to reveal the horrors suffered in the years of Nazi rule. There is also a love story as she meets Lance from the Resistance and we learn from the modern timeline that their love endured.
Meanwhile, Emma is determined to interview Angeline even though it takes her away from her own sick mother. She is easy to like and has a spiky relationship with Angeline's bodyguard which adds another dimension to the story. There are parallels between the two timelines which is interesting for the reader to compare and contrast.
Love and passion, a zest for life and an instinct for survival, identity and grief all feature prominently in the book. The final twist is hinted at all the way through but still made me smile. Nazi brutality is never shied away from: it is upsetting but compulsive reading as we must never forget the atrocities they committed or their victims' stories.
The Lost Girl In Paris is a vivid and emotional book about love and loss.

The Lost Girl in Paris book blurb
'I will never forget what the Nazi did to me. Never'
1940, Nazi-occupied Paris. A powerful story of love, tragedy and incredible courage, about one woman whose life is ripped apart by war and risks everything to seek justice. Brand new from the bestselling author of The Resistance Girl.
As Nazis patrol the streets of the French capital, Tiena is alone, desperate and on the run. After defending herself against the force of an officer, she must find a new identity in order to survive.
An accidental meeting with members of the Resistance gives her a lifeline, as she is offered the chance to reinvent herself as perfumer Angéline De Cadieux.
However Angéline will never forget what happened to her, and will do everything she can to seek revenge. But vengeance can be a dangerous game, and Angeline can only hide her true identity for so long before her past catches up with her, with some devastating consequences…
Paris, 2003. When the opportunity arises for aspiring journalist Emma Keane to interview world renowned perfumer Madame De Cadieux about her life during World War Two, she is determined to take it. There are secrets from her own family history that she hopes Angéline may be able to help unlock.
But nothing can prepare Emma for Angéline's story, and one thing is for certain – it will change her own life forever…
An absolutely heartbreaking, unforgettable historical novel of war, sacrifice and survival. Perfect for fans of Suzanne Goldring, Ella Carey and Catherine Hokin.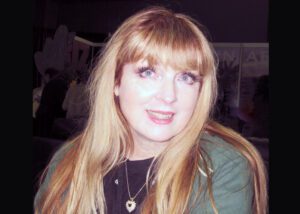 Author Bio 
 Jina Bacarr is a US-based historical romance author of over 10 previous books. She has been a screenwriter, journalist and news reporter, but now writes full-time and lives in LA.  Jina's novels have been sold in 9 territories.

Social Media Links –