Norah survived a serial killer nicknamed Hansel ten years ago. Now she returns to her hometown following her father's death and discovers the body of one of her friends. The staging of the body suggests a copycat but could Hansel have come back to find Norah…?
The Lucky One is a psychological and crime thriller set in America.
The book is written from Norah's first person perspective which makes her situation come to life effectively. She is naturally haunted by the past and has survivor's guilt as her best friend died in front of her. Now her other friend is targeted and Norah has to face the past to keep herself and others safe.
The detective in charge of the new investigation treated her badly in the past so Norah is instantly on edge and defensive. She is also dealing with mixed emotions at the death of her father who was an alcoholic but may have died in suspicious circumstances. A journalist intrudes on Norah's pain as does an author, both seeking to cash in on her experiences.
The plot is delivered through two timelines, past and present. The night of her abduction and negotiation with a killer is taut and tense. Meanwhile in the present Norah is tormented by her memories and fears as well as the danger of the new threat. I felt that Norah's behaviour in both timelines was authentic in its emotion which is vividly described. The pace is fast as events unfold quickly and Norah needs to react to the plot developments rapidly to stay safe.
The Lucky One is an entertaining thriller and I thought that the premise of escaping a serial killer was quite unique.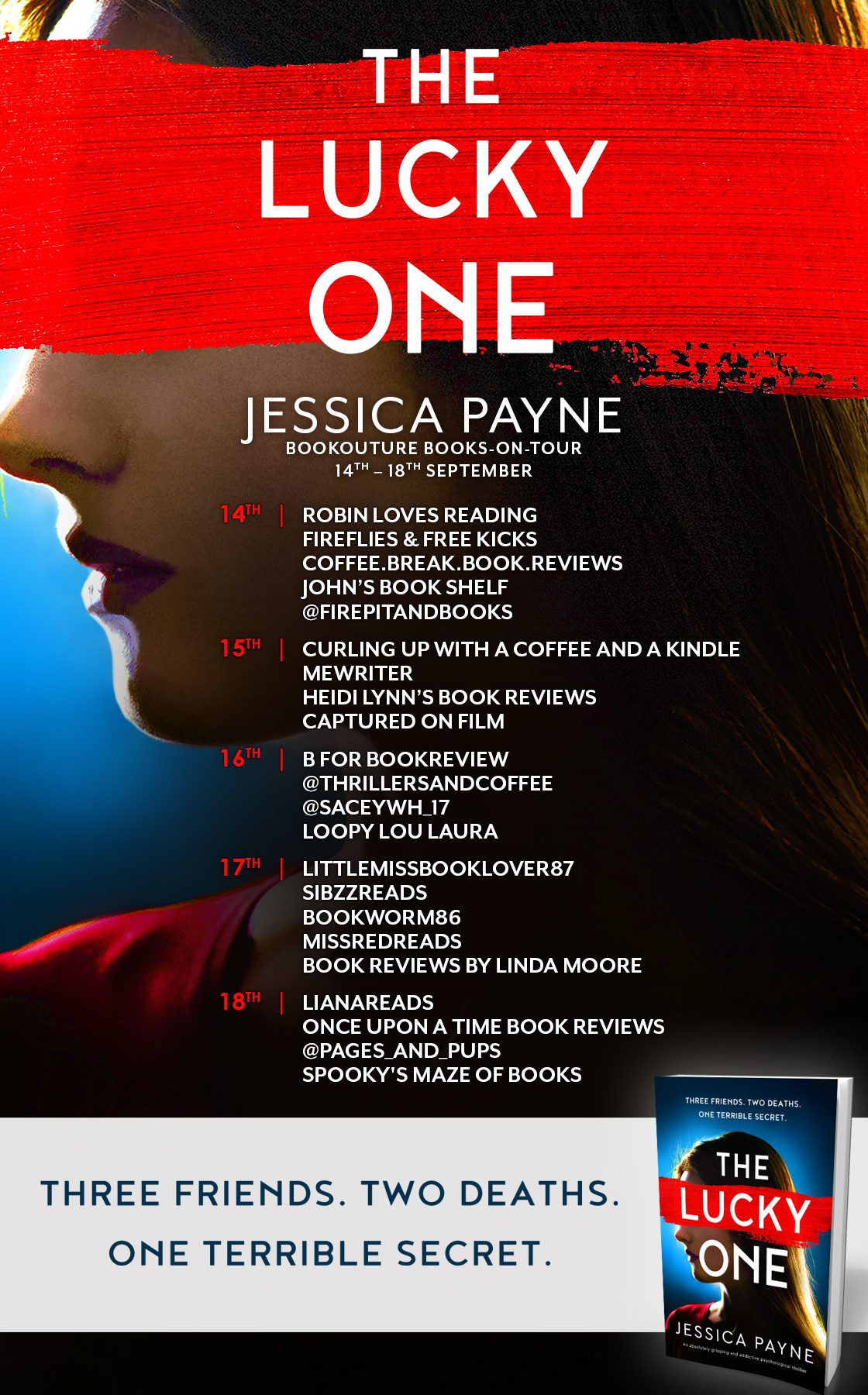 MEDIA PACK
The Lucky One: An absolutely gripping and addictive psychological thriller by Jessica Payne
Ten years ago, I survived a serial killer. They called me the lucky one, but they don't know the truth I've been hiding ever since…
Then: We danced together that night, our dresses glittering in the swirling lights. We couldn't have known that for one of us, it would be our last night alive.
Now: Back in my hometown a decade later—the place I've avoided because of the memories—I can't shake the feeling that I am being followed. I tell myself it's all in my head, but the prickle on the back of my neck feels like a warning. Then the anonymous messages land in my inbox: I'm watching. I've been waiting for you.
I want to feel safe, surrounded by my closest friends. But everyone has something to hide and it's impossible to know who I can trust.
When my friend Esme goes missing, her phone ringing through to voicemail, it feels like the past is about to repeat itself.
Someone won't let me forget what really happened that night. What I promised. How I escaped. If the truth comes out, I only hope they can forgive me… I can't make the same mistake again. I have to keep us all safe. What if, this time, I'm not so lucky?
An addictive, nail-biting psychological thriller, The Lucky One will have you sleeping with the light on. Fans of Stillhouse Lake, The Girl on the Train and Gillian Flynn will be totally hooked!
About the author
Jessica Payne is the author of THE LUCKY ONE and MAKE ME DISAPPEAR. She grew up in Kansas City, later moving to the Pacific Northwest where the mountains and Puget Sound became home. Beyond writing, she loves to run, rock climb, and explore the great outdoors with her daughter and husband. She is an RN and recently finished her degree as a nurse practitioner. When holding still, which isn't often, you'll find a book in her hand and a cat or dog (or both!) in her lap. Jessica writes suspense and thriller and is the host of #MomsWritersClub on Twitter and YouTube. You can find out more about her at her website, jessicapayne.net
Author social media
Twitter: @authorjesspayne
Facebook: @authorjessicapayne
Instagram: @jessicapyane.writer