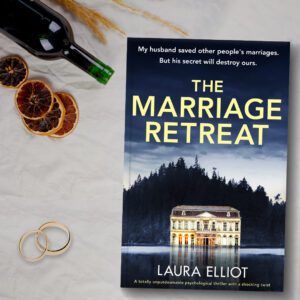 Lorraine and Victor are famous for saving people's marriages. But when Victor dies in a car crash accompanied by an unknown young woman, Lorraine has to confront the idea that she didn't know her husband at all…
The Marriage Retreat is a psychological thriller and mystery about secrets hidden within a marriage.
Lorraine and Victor are a power couple with a reputation to maintain. They have successfully saved other people's marriages and were confident in their own. Lorraine is shocked as well as griefstricken when Victor dies in a car crash and she is thrown into confusion by his mysterious companion and secret documents she finds in his office. Was their marriage a lie and can she save her reputation and livelihood, and at what cost?
I enjoyed the premise of the book but I felt the beginning was a bit slow. The car crash happens straight away and launches into the mystery of the young woman and Victor's potential lies. But then it goes back in time to show the start of the relationship between Lorraine and Victor which slowed the pace right down and didn't really interest me.
Events and tension then spring up as Lorraine chases down clues about the truth that Victor has kept hidden. I thought the mystery and drama was entertaining and I was impatient for Lorraine to uncover and deal with the secrets. There were twists and reveals which made me anticipate what might happen next and I liked being kept guessing.
The Marriage Retreat is a tense psychological thriller about truth and lies.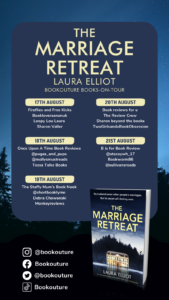 The Marriage Retreat: A totally unputdownable psychological thriller with a shocking twist
My husband saved other people's marriages.
But his secrets will destroy ours…
I stand in the mortuary and take a deep breath before identifying the body of the man I've been married to for twenty-six years. 
Victor 

and I built Serenity Falls, a successful couples' retreat, together. Honesty and trust were the bedrocks of our marriage, and we helped other couples repair their relationships too.
Now my whole world has been turned upside down and I don't know what to think. A woman lies in a coma, in a stark, white hospital room. She was by Victor's side when he died. The police have been unable to identify her and I'm forced to confront the painful reality that my own husband was hiding something. My grief is laced with anger. How could he lie to me?
But as I begin to uncover the secrets of my husband's past, I discover the shocking truth about the woman with no name and no memory. And to protect my family, I have to make a choice.
A choice that will turn me into a liar, just like Victor.
And will end in murder…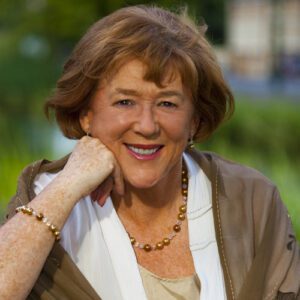 About the author
Laura Elliot lives in Malahide, a picturesque, coastal village in Dublin, Ireland. She enjoys writing psychological thrillers and, to date, she has written nine novels: The Thorn Girl, The Wife Before Me, Guilty, Sleep Sister, The Betrayal, Fragile Lies, Stolen Child ( also titled On Your Doorstep) The Prodigal Sister (also titled The Lost Sister) The Silent House and her most recent novel, After The Wedding.
In the UK she is published by Bookouture, Sphere and Avon – and by Grand Central Publishing in the US. Her novels have also been widely translated.
AKA June Considine, she has written twelve books for children and young adults. In her earlier career, she worked as a journalist and magazine editor.
Author social media