Holly and Zach seem to have the perfect marriage but behind closed doors it is something different.They have a new baby but Holly is desperate to escape her unhappy life. Zach has a hold over her so Holly is trapped…
The Marriage Secret is a domestic psychological thriller set in America. There is a significant crime element to the novel, especially in the second half of the book.
Zach is relentless in his abusive campaign of control and fear against Holly in the opening half of the book. I found this often difficult to read as it was quite implacable with sinister danger lurking. We then discover some of the hold he has over her and the balance of power begins to shift.
The book begins with a diary entry which gives hints about the future. But the majority of the book is written from the third person perspective of Holly, showing the insidious ways that Zach takes over her life and emotionally abuses her. The opening chapter about the birth of their child is very unpleasant as the terror is so vividly described.
There were major plot twists along the way, significantly at the end. I had various potential scenarios playing out in my head and loved how the author kept me guessing which outcome would be correct.
The Marriage Secret was hugely entertaining and had me completely hooked.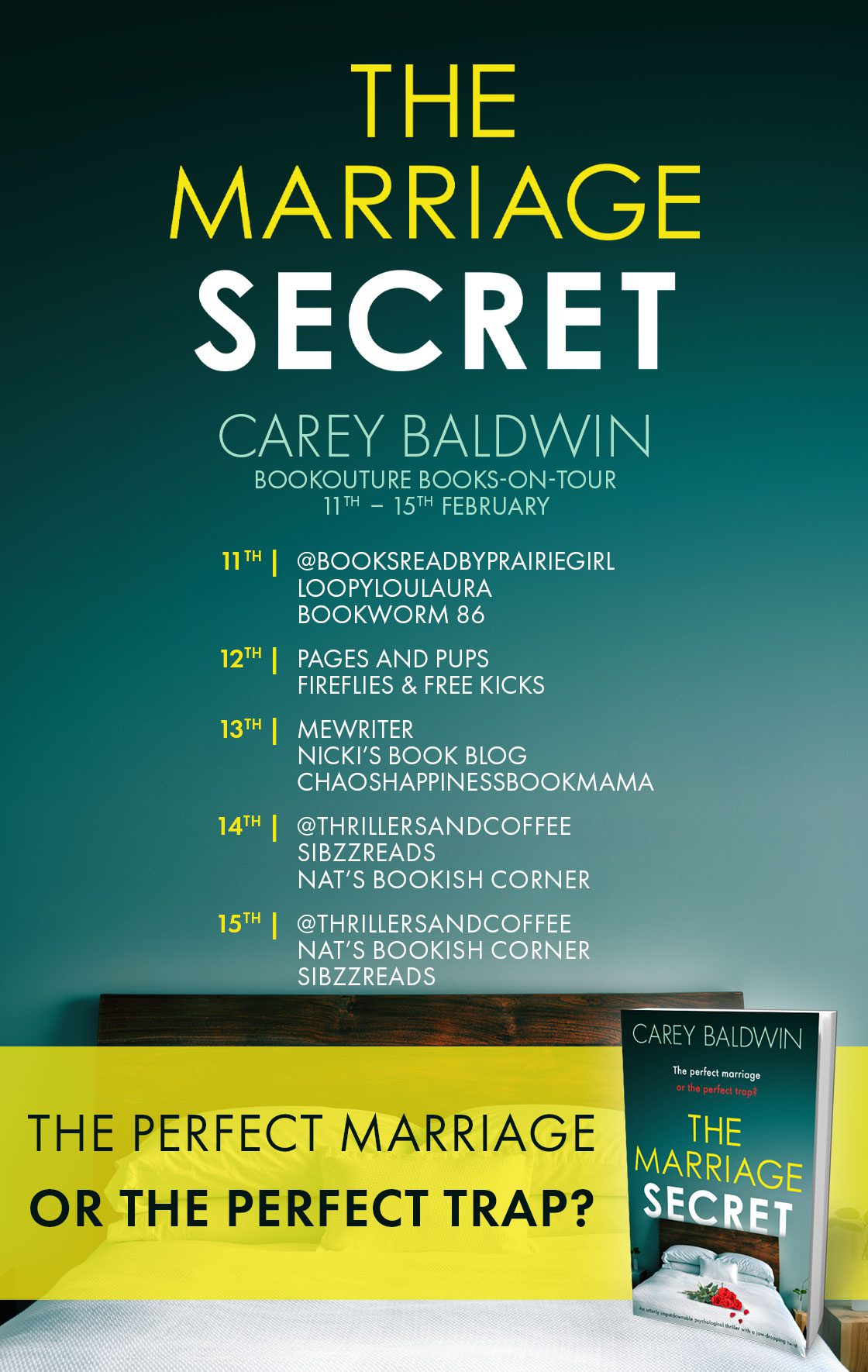 The Marriage Secret: An utterly unputdownable psychological thriller with a jaw-dropping twist
He married me despite my darkest secret. But am I safe now that I know his?
From the outside, my marriage to Zach was perfect: dream home, a perfect baby girl and passionate, all-consuming love. When we met, I confessed my darkest secret to him and he never judged me for it. Instead, he vowed to always protect me whatever the cost.
But as I cradle my gorgeous baby, I have to accept that the husband who used to be my everything, has changed. At first it was little things: expecting me to keep to a strict schedule, picking out my clothes for me. Now, he controls every aspect of my life: from how much money I have, to when I leave the house and who I can see.
One fateful night, a young woman is found murdered and Zach is a potential suspect. Turning towards me, a look of warmth returning to his eyes, he swears he's innocent, and I realize there is only one solution. If I agree to be his alibi, he will keep my secret and our daughter can grow up in a loving home. In that moment, I do what any faithful wife would do: I stand by him.
But I know deep down, only one of us will make it out of this marriage alive.
A completely unputdownable and twist-filled psychological thriller from USA Today bestselling author Carey Baldwin. Fans of The Wife Between Us, The Marriage and Gone Girl will be totally addicted to The Marriage Secret.
Buy links:
About the author
By day Carey is a dedicated pediatrician. By night she's a USA Today bestselling and award winning author of edgy suspense. In addition to her MD, Carey also holds a PhD in clinical psychology. She loves reading and writing stories that keep you off balance and on the edge of your seat. In her spare time she enjoys hiking and chasing wildflowers.
Author social media
Twitter: @careybaldwin
Instagram: @authorcareybaldwin