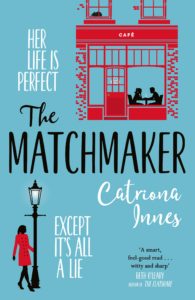 This book started off as a bit of light relief after reading some intense (but brilliant) crime and psychological thrillers. It soon became apparent that this book was much deeper than I realised and the emotional narrative of love and loss took centre stage.
Caitlin is a professional matchmaker, building her fame and reputation on her ability to find perfect relationships just like her own with Harry. Gradually, little clues are dropped that Caitlin's life is not so picture perfect and her marriage is full of secrets.
The reveal half way through the book is heartbreaking and raw. Author Catriona Innes' writing is impressive in the way it changes direction.
Caitlin is an interesting character to review as she has worked hard to create a social media identity, but reality is very different. As an influencer, content creator, blogger (whatever I am!) I try to present my real life on my blog and social media but most of the time it is only the best photos that end up on there and there may have been ten or more attempts to get the kids smiling. Plus the difficulty of capturing our experiences to put on the internet means that some of the pictures are slightly staged (and I try to cut out a lot of the mess in our house!)
There is plenty of humour in The Matchmaker which softens the intensity of the emotional narrative in the second half of the book. Overall, this is a real rollercoaster of a book in terms of the hope and heartache, drama and mystery, laughter and tears.
The Matchmaker
By Catriona Innes
Published in paperback original by Trapeze on 28th November 2019, priced £8.99
Inspired by the hit TV show FIRST DATES, this emotionally charged rom-com with a heart-wrenching twist is perfect for fans of THE MAN WHO DIDN'T CALL by Rosie Walsh, SOME KIND OF WONDERFUL by Giovanna Fletcher and IT STARTED WITH A TWEET by Anna Bell.
For Caitlin Carter, love means business.

She's taken matchmaking back to basics. There is no swiping left. No creepy location tracker. Definitely no unsolicited pics of areas of the anatomy no one wants to see. She's made dating great again: personal, patient… and profitable. Her start-up is going from strength to strength, with clients wanting to find the love she has with her own husband Harry, and she even has celebrities wanting to use her services…

Caitlin is living the perfect life. Except it's all a perfect lie. And Caitlin doesn't know how long she can keep it up.
In an era of social media and dating apps, when we have never been more connected yet more isolated, THE MATCHMAKER is a story about love, loss and loneliness, and learning to accept your reality.
ABOUT THE AUTHOR
Catriona Innes is currently Features Director at Cosmopolitan where, in the name of investigative journalism, she has joined an undercover police force, worked as a Playboy Bunny croupier and – for one night only – performed a stand-up set with just two hours practice. When she's not trying on other careers for size, she edits, writes and commissions the award-winning features section of the magazine. Originally from Edinburgh she now lives in London with her husband and cat.
'I absolutely loved THE MATCHMAKER. It completely swept me away. It is fun, hopeful and heart-breaking, and I cried more than once!' LIA LOUIS, author of Somewhere Close to Happy and Dear Emmie Blue
'I thoroughly enjoyed this smart, feel-good read. It's witty, sharp and has real depth to it, and I love that even though it's uplifting, it doesn't ever shy away from the realities of life.'  BETH O'LEARY, Sunday Times bestselling author of The Flatshare
'I absolutely adored it…It's such a skilful, nuanced and thoughtful exploration of the full complexities of love. It's so refreshing, uplifting and brilliantly observed.'  DAISY BUCHANAN, author & journalist