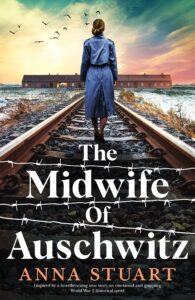 TRIGGER WARNING: graphic Holocaust violence including infanticide
Ana and Ester are friends in Lodz, Poland when the Nazis invade. Both are forced from their homes as a ghetto is established and Ester is locked inside. Ana is eager to help the Jewish community but this brings her to the attention of the Gestapo. Both women are sent to Auschwitz where they put their nursing and midwidery skills to good use.
The Midwife of Auschwitz is an historical novel set in Poland during the Nazi occupation. It is based on a true story but the two main characters are both fictional.
Ana is a midwife and Ester is a nurse and their skills save them from selection for the gas chambers when they arrive. Together they tend to the pregnant women in Auschwitz but the babies are killed or taken to be Germanised. They tattoo the mother's number into the armpit of the babies in the hope that they can one day be reunited. There is hope and love in spite of the horrific ordeals in the camp.
The horrors that Ester and Ana witness and experience are explicitly described. I had to put the book down several times as the violence is so realistically recounted. Love for each other and for their families keeps the women going in the harshest of circumstances. The emotion and heartache are very raw and I was completely absorbed into the story.
The Midwife of Auschwitz is harrowing but a wonderful testament to the endurance of love.
Book Description:
Auschwitz, 1943: As I held the tiny baby in my arms, my fingers traced the black tattoo etched across her little thigh. And I prayed that one day this set of numbers, identical to her mother's, would have the power to reunite a family torn apart by war…
Inspired by an incredible true story, this poignant novel tells of one woman's fight for love, life and hope during a time of unimaginable darkness.
Ana Kaminski is pushed through the iron gates of Auschwitz beside her frightened young friend Ester Pasternak. As they reach the front of the line, Ana steps forward and quietly declares herself a midwife – and Ester her assistant. Their arms are tattooed and they're ordered to the maternity hut. Holding an innocent new-born baby, Ana knows the fate of so many are in her hands, and vows to do everything she can to save them.
When two guards in their chilling SS uniforms march in and snatch a blond-haired baby from its mother it's almost too much for Ana to bear. Consoling the distraught woman, Ana realises amidst the terrible heartache there is a glimmer of hope. The guards are taking the healthiest babies and placing them with German families, so they will survive. And there are whispers the war is nearly over… Ana and Ester begin to secretly tattoo little ones with their mother's numbers, praying one day they might be reunited.
Then, early one morning, Ana notices the small bump under Ester's thin striped clothing…
An absolutely heartbreaking and page-turning WW2 novel of one woman's bravery and determination to bring life and hope into a broken world. Fans of The Tattooist of Auschwitz,The Alice Network and The Nightingale will be gripped.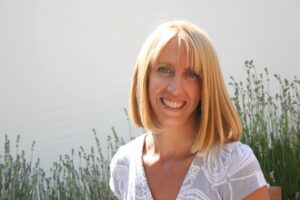 Author Bio:
Anna Stuart lives in Derbyshire with her campervan-mad husband, two hungry teenagers and a slightly loopy dog. She was hooked on books from the moment she first opened one in her cot so is thrilled to now have several of her own to her name. Having studied English literature at Cambridge university, she took an enjoyable temporary trip into the 'real world' as a factory planner, before returning to her first love and becoming an author. History has also always fascinated her. Living in an old house with a stone fireplace, she often wonders who sat around it before her and is intrigued by how actively the past is woven into the present, something she likes to explore in her novels. Anna loves the way that writing lets her 'try on' so many different lives, but her favourite part of the job is undoubtedly hearing from readers. You can reach her on Facebook @annastuartauthor or Twitter @annastuartbooks.
Buy Link:
Audio:
Listen to a sample here:
You can sign up for all the best Bookouture deals you'll love at: http://ow.ly/Fkiz30lnzdo