Ros makes a new friend on holiday and the pair go out for the night. Alcohol is flowing and in the morning, Ros can't remember what happened, if she cheated on her husband or revealed the secret that has been haunting her. But a holiday friendship is temporay so she relaxes knowing she won't see Lotte again. Until Lotte moves in around the corner and her daughter is in the same class at Ros'…
The Mother at Number 5 is a psychological thriller about two women whose lives become interconnected.
Ros and Lotte make friends with each other while on vacation. But a night out dancing and drinking leaves Ros hungover and scared. She can't remember what she said or did that night but hopes she kept her devastating secret to herself. Then Lotte turns up back in Ros' hometown, firmly planting herself ino her life and hinting that she knows something.
The book is written from the third person perspective of Ros and the first person narrative of Lotte. There are hints about what Lotte's motive could be and this maintained the mystery until the reveal occurred.
Ros had the added pressure of her older daughter's behaviour which is becoming more disturbing and even violent. I didn't trust Lotte right from the start but she isn't the only one hiding devastating secrets. The clues are hinted at throughout the first half of the book, building tension and anticipation. The ending was a little abrupt and I wish there had been further plot and character detail to conclude the story fully.
The Mother at Number 5 is an entertaining and intriguing psychological thriller.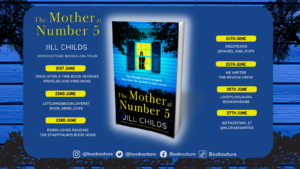 Title: The Mother at Number 5
Publication Day: June 21st 2023
Author: JILL CHILDS  
Buy Links: 
Audible:
Description:
I told her my darkest secret. Then she moved next door…
Once you find our perfect little town nestled between the gorgeous hills, you never want to leave. My husband and I both grew up here and we knew there was nowhere better to raise our two sweet girls
… 
But when the moving van pulls up, and a mother and daughter jump out, my blood runs cold.
I met the mother once on our summer holiday and I let slip a terrible secret, something no one here must ever know… Fear rushes through me as I remember that night, but I'm sure I never told her where we live. As if she can read my mind she leans in close and says, 'Don't worry, you'd had a few drinks. 
Your secret's safe with me

.' But I don't trust her – 

why has she moved to my street?
I try to warn my kind, loving husband to stay away, but he laughs me off and invites her into our lives. When she lets my precious daughter get hurt, she's gone too far. I know she's here to destroy my perfect life.
But the mother at number 5 has made a mistake. She has underestimated me ever since the night we met. 
And she has no idea what I'll do to protect those I love and keep my secret safe…
A completely unputdownable psychological thriller from the 
USA Today
 bestseller about family secrets, guilt and lies. If you love 
The Girl on the Train
, 
The Housemaid
 or Lisa Jewell, you will gasp out loud at the shocking twists!
 
Author Bio:
Jill has always loved writing – real and imaginary – and spent 30 years travelling the world as a journalist, living overseas and reporting wherever the news took her. She's now made her home in London with her husband and twin girls who love stories as much as she does. Although she's covered everything from earthquakes and floods, riots and wars, she's found some of the most extraordinary stories right here at home – in the secrets and lies she imagines behind closed doors on ordinary streets, just like yours.
If you've enjoyed reading one of Jill's books, please do leave a review.
For latest news, follow Jill on Twitter (author_jill) and Facebook (Jill Childs)
Author Social Media Links: