Anastasia has been married four times and is about to marry again. Is she unlucky in love or could she have murdered her previous husbands?
The Mystery of the Lost Husbands is a private investigator and crime novel set in multiple locations and timelines.
The SeeMs detective agency usually deals with locating missing pet dogs. But a personal connection starts them off of an investigation into Anastasia Rodriguez, a woman who has already been widowed four times and is about to embark on another marriage.
The investigation takes them around the world, meeting a host of witnesses. Plus we see aspects from the past with Anastasia meeting and marrying her former husbands. There are also letters she writes to her family which give the reader a personal insight into her viewpoint. I enjoyed the plot of this book but the style of writing didn't suit me as I felt is was a little jumpy.
The three main women investigators (Cat, Miranda and Stevie) are intrepid and determined. There is plenty of back story on each of them which slows down the pace of the book. Their quirks make them all unique and different to other amateur sleuths. Meanwhile we develop an understanding and perhaps sympathy for Anastasia through her own words as well as the opinion of others. No spoilers here about whether she was capable of murder!
The Mystery of the Lost Husbands is the first in a new series and I would be interested to read about the main characters again.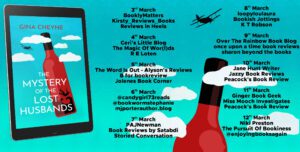 The Mystery of the Lost Husbands
Is murdering husbands an addiction or merely a bad habit?
This is the question facing Private Investigator Cat Harrington when rich builder, Tom Drayton, dies shortly after his wedding night. Suspicion falls on his widow, Anastasia Rodriguez, the survivor of three previous 'lost' husbands.
Two years later, Anastasia is engaged again, to Cat's friend Angelo, an Italian snail collector.
Angelo's sister, Gia, employs Cat and the SeeMs Detective Agency to discover if her brother's financé is a killer.
The search for Anastasia's lost husbands takes Cat and her team from Scotland to the South of Spain and on to Argentina.
They have just a few weeks before the wedding to discover if Anastasia is a murderer and save their friend from becoming victim number five.
For fans of Arsenic and Old Lace and The Number 1 Ladies Detective Agency
 
Purchase Links
Author Bio –
Gina has worked as a physiotherapist, a pilot, freelance writer and a dog breeder. Since marrying the first time, she has lived and worked in many countries including Spain and the USA.
For a few years Gina was a Wingwalking pilot, flying, amongst others, her 64-year-old mother standing on the wing to raise money for a cancer charity. She was also a helicopter instructor and examiner and took part in the World Helicopter Championships in Russia and the USA.
She became a writer because her first love was always telling a good yarn!
Under the name Georgina Hunter-Jones she has written illustrated children's books such as The Twerple who had Too Many Brains, and Nola the Rhinoceros loves Mathematics.
She now lives in Sussex with her husband and dogs, one of who inspired the Biscuit and Pugwash Detective Series about naughty dogs who solve crimes.
The Mystery of the Lost Husbands is the first in the SeeMS Detective Agency series and Gina's first crime novel for adults.
Social Media Links –