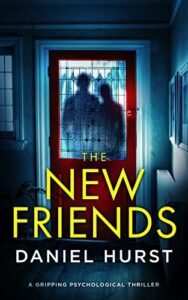 Money is a struggle for Becky and Jamie but they are taking a well earned holiday before settling down to start a family. They meet a friendly couple Phil and Mel who have a lavish lifestyle. The two couples strike up a friendship that survives the return home to England. But are the rich pair too good to be true…?
The New Friends is a psychological thriller about the dangers of con artists and not being satisfied with life.
Becky and Jamie are a hard working couple and are finally ready to start a family. Jamie has been squirrelling away money each month to help pay for baby things. But he is tempted by the prospect of a quick buck. Phil and Mel seem to have everything, heaps of cash and early retirement. Jamie hopes that he can replicate their good luck with stocks and shares with Phil's help. But Phil and Mel have another plan.
The book is written from four different first person viewpoints so we see the perspectives of each of the main four characters. This is hugely effective at engaging us with all of the characters, understanding their emotions and motives as events proceed.
The plot is quite fast paced as Phil and Mel put their plan in motion and begin to charm the unlucky pair. Things are not as straightforward as Phil would like as Mel has second thoughts. I was drawn into the plot and felt like I really knew the characters well. The writing is clever and engaging, effectively creating a believable situation.
The New Friends had me completely sucked in to the plot and I really enjoyed the book overall.
Buy Links
Book Blurb
They are fun, wealthy, fabulous. Pray you never meet them.
Becky and Jamie are an ordinary hard-working couple trapped in the daily grind, dreaming of an easier life. On one of their rare vacations, they meet a wealthy couple, Phil and Mel, who seem to have it all – they are fun, well travelled, and very generous with their money.
But they are also very, very dangerous.
Because Phil and Mel are not who they say they are. And this is no random vacation friendship, they have chosen Jamie and Becky carefully, seducing them with the promise of a lifestyle just like theirs.
By the time Jamie and Becky realise what their new friends really want, it's too late, they've lost everything, their hopes and dreams lie shattered.
The only question now is how far will they go to get even?
The New Friends – the stunning psychological thriller from the bestselling author of The Passenger, The Boyfriend, The Promotion.

Author Bio
Daniel Hurst writes psychological thrillers and loves to tell tales about unusual things happening to normal people. He has written all his life, making the progression from handing scribbled stories to his parents as a boy to writing full length novels in his thirties. He lives in the North West of England and when he isn't writing, he is usually watching a game of football in a pub where his wife can't find him.
Daniel writes psychological thrillers. The New Friends will be his fourth novel published with Inkubator Books.