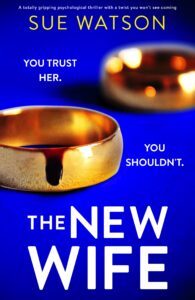 Sam and Lauren are childhood sweethearts and their families are delighted when the couple tie the knot. But their happiness is shortlived as Lauren dies weeks after the wedding and secrets begin to unravel…
The New Wife is a psychological thriller set around an intriguing domestic situation. A terrible accident or a chilling murder? A bereaved husband or a guilty man?
The book is written from Sam's mother Georgie's first person perspective. I loved the way she fiercely stands by her son and feels devastated by her friends' rejection. Georgie felt really realsitic and I genuinely liked her tenacity and loyalty.
Meanwhile we see the other characters through Georgie's eyes. She thinks she knows her friends and family so well but gradually discovers that her knowledge of them is flawed and skewed. This drives the plot along as we share Georgie's journey of realisation.
I had loads of suspicions as there are so many twists. Everyone seems to be hiding something and Georgie doesn't know who to trust. There are even a couple of occasions when she starts to doubt Sam's innocence as he admits to secrets as well. The perfect life she had clung to is in tatters with her daughter in law dead, son suspected and her best friends' marriage crumbling.
The New Wife is a fascinating read as the plot unfolds and the characters develop.

The New Wife book description:
You can never truly know what goes on behind closed doors…
My darling son, Sam, is marrying his childhood sweetheart and I couldn't be prouder of the man he's grown into. Walking out on his abusive father all those years ago was the best thing I ever did. And today he stands, tall and handsome, saying 'I do' to my dream daughter-in-law. If I hadn't pushed them together all those years ago, he might never have found a girl as perfect as Lauren. It's true what they say, mother always knows best.
But weeks later, Lauren is dead and police cars fill the driveway of their idyllic countryside home. As they question Sam, I sense he's hiding something. Why won't he look me in the eye? And who does he rush off to meet as soon as the police are gone?
Desperate, I do what every good mother would do: I let myself into Sam and Lauren's bedroom. What I see, I will never be able to forget. My son's beautiful new wife was hiding a dangerous secret. Can I clear my son's name? And could my life be in danger now too?
A completely gripping, utterly twisted thriller that will leave your jaw on the floor. Perfect for fans of Gone Girl, The Wife Between Us and The Woman in the Window.
Author Bio:
Sue Watson was a TV Producer at the BBC until she wrote her first book and was hooked.
Now a USA Today bestselling author, Sue explores the darker side of life, writing psychological thrillers with big twists. Originally from Manchester, she now lives with her family in leafy Worcestershire where much of her day is spent writing – and procrastinating. Her hobby is eating cake while watching diet and exercise programmes from the sofa, a skill she's perfected after many years of practice.
Follow Sue on Twitter @suewatsonwriter
Buy links:
Audio Links:
Listen to a sample here: