Nicole left town shortly after the disappearance and suspected murder of her best friend. She has always believed her parents might have been involved. Now she is forced to confront the past when her young pregnant sister goes missing. Could her parents be involved in another disappearance or have they been innocent the whole time?
The Night She Vanished is a thriller set in America.
Nicole left town and married her high school sweetheart. But she has never managed to escape the past. When her sister Aimee goes missing she returns to her hometown, even more anxious for her safe return when she discovers Aimee was 8 months pregnant. Then some bones are found at an abandoned property, could this be Aimee or the remains of her best friend at last?
This book is full of tension and emotion. Nicole has always thought that her parents knew something about her best friend Lori's disappearance and is now terrified that they have done something to her sister. She even suspects her dad could be the father of her sister's unborn child but he strenuously denies this. There is a real sinister atmosphere and no one seems to give a straight answer.
Most of the book is set in 2022 but there are some chapters set in the summer or 2008 when Lori went missing. This heightens the tension as we wait for the worst to happen to Lori. Remains are found in the present and Nicole has to deal with this shock as well as coping with being back in her childhood home with her parents.
The Night She Vanished is an entertaining and engaging thriller.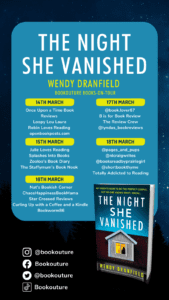 The Night She Vanished: An absolutely gripping and totally nail-biting psychological thriller with a jaw-dropping twist
My parents seem to be the perfect couple. But no one knows what I know…
Everyone in the small Midwestern town of Henderson looks up to my perfect parents. With dependable jobs as a midwife and the town sheriff, they help this close-knit community feel safe. But the locals didn't grow up in my parents' house. They don't know what I know. And they wouldn't believe me if I told them…
After my best friend vanished when we were just fifteen, I left town and never looked back. I couldn't prove it, but I think my parents killed her.
Now, years later, my little sister has vanished. I have no choice but to go home and play happy families again. Because I have to find out what my parents have done to her. I have to try to save her.
But when bones are discovered on a local farm, and all the evidence leads back to our front door, I realize I was wrong about absolutely everything. And that coming back was the deadliest thing I could do…
An utterly gripping read that will have you on the edge of your seat long into the night. If you like Freida McFadden, Lisa Jewell and Gone Girl you will love The Night She Vanished.

About Wendy Dranfield
Wendy is the bestselling author of the Detective Madison Harper crime series.
She is a former coroner's assistant turned crime writer who writes a mixture of standalone thrillers, crime series and short stories. Some of her books have been shortlisted for various writing competitions and awards, including the Mslexia novel writing competition and the International Thriller Writer Awards.
You can find more information on her website: wendydranfield.co.uk
Author social media
Instagram: @wendy_dranfield