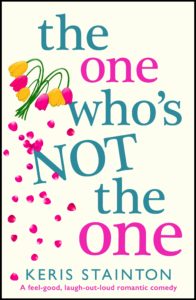 Cat is feeling a bit stuck in a rut. Her job is a bit too easy. Her flat share is not going well. Her love life is non existent.
Then she spots in a newspaper that her former love Sam has returned from Australia and is doing a stand up routine about her! She used to do stand up too but lost confidence: can she get her life back under control?
Her other romantic interests include Sam's brother Harvey and her boss Nick. Will she choose the right man? Who is The One?
I loved Cat's relationship with her best friend Kelly. I really wish I had a friend like that! The friendship between Kelly, her husband Sean and son Arnold, and Cat is just brilliant.
This is a very funny book as well as heartwarming. Cat is a flawed but loveable character. She has a strained relationship with her father and her childhood haunts her, skewing her decisions. Her developing romantic feelings for Harvey are constrained by her mixed emotions for Sam and the fact that she never got over him leaving. Meanwhile, her boss Nick offers her a chance to relocate to New York and she needs to figure out where her heart lies quickly to prevent herself getting hurt again.
If you are looking for love and laughs then look no further!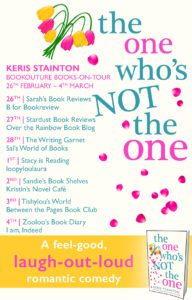 Title: The One Who's Not The One
Author: KERIS STAINTON
Publication Day:  Feb 26th 2019
Buy link:
Description:
A hilarious rom com about falling in love, falling out of love, and finding out who you really are.
Cat's life has hit a brick wall. Since her ex ditched her without ceremony five years ago she's quit stand-up comedy, landed in a steady but dull job, and lives in a tiny flat with roommates she knows only as The One Who Eats All My Food and The One Who Has Really Loud Sex.
So when she bumps into old friend Harvey and sparks fly, Cat is surprised – and horrified, because Harvey is her ex's brother, and so absolutely, 100% off-limits romantically. Even if his dimples do make her insides fizz…
When she's offered a new job abroad, Cat is tempted to accept – and leave her depressing flat and mess of a love life behind her. But will running away from her problems really solve them?
Fans of Jenny Colgan, Marian Keyes and Mhairi McFarlane will love Keris Stainton!
About the Author
Keris Stainton was born in Canada, grew up on the Wirral, lived in London for a while and now lives in Lancashire with two boys, two guinea pigs, and an unhealthy (but enjoyable) obsession with One Direction.
She's written books for children, teenagers, and adults and can almost always be found on Twitter.