It is 1971 and Tim Russell has gone through a messy divorce. Anxious to make some money, he buys a run down property to renovate for profit. However, as soon as he moves in, he is confronted by a family of ghosts…
Tim calls on the estate agent to help him to investigate the history of the farmhouse and they discover that the previous owners had been haunted as well. They piece together the evidence of the past to understand why the ghosts cannot rest in peace. But Tim and Holly are in danger from one ghost in particular…
The Patience of a Dead Man is seriously spooky and I would advise reading in daylight! I went to bed last night convinced that Mildred would be waiting for me… The ghosts are creepy throughout the whole book, with moments of downright terror that made my heart thud with fear.
Tim is an instantly likeable character and our sympathy with his personal and financial situation gives us an investment in his story. We are also invited to empathise with the father and son ghosts as we see scenes reenacted through journal recounts or as seen by Tim.
Mildred is the main ghost and author Michael Clark has constructed her character in a really interesting way. There is no doubt she is scary, and she murders a character right at the beginning as she feels threatened. Her evil seems to fluctuate in response to the actions of the owners and her timeline of reenactments. But there are also hints about an unhappy childhood which make explain but not excuse her behaviour.
The Patience of a Dead Man was an excellent read. It has enough of a conclusion to satisfy readers but is the first in a trilogy so there is an open ending. I can't wait to read the next books!

Tim Russell just put his last dollar on a handyman's dream; a quaint but dilapidated farmhouse in New Hampshire. Newly single after a messy divorce, his plan is to live in the house as he restores it for resale. To his horror, as soon as the papers are signed and his work starts, ghosts begin to appear. A bone-white little boy. A woman covered in flies. Tim can't afford to leave and lose it all, so he turns to his real estate agent Holly Burns to help him decide whether he has any shot at solving his haunted problem. Can they solve the mystery before he loses his investment…or maybe his life?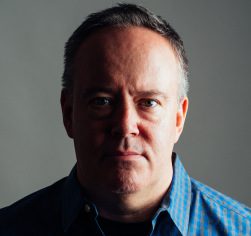 Michael Clark was raised in New Hampshire and lived in the house The Patience of a Dead Man is based. The bats really circled the rafters of the barn all day long, and there really was a grove hidden in the forest. He now lives in Massachusetts with his wife Josi and his dog Bubba.
The Patience of a Dead Man, Dead Woman Scorned & Anger is an Acid are his first three novels.