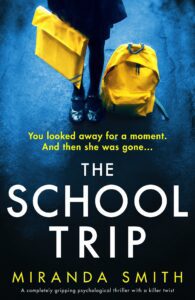 Emma is a teacher and takes her class away to a pumpkin patch for a school trip. A little girl goes missing and she joins the search. Meanwhile, her own daughter is abducted…
The School Trip is a psychological thrller set in America.
Every parent can instantly identify with the fear of having a missing child. As a teaching assistant, I also understand the stress of keeping track of classes of children when out and about! Emma has every teacher and then every parent's nightmare: a lost child. Her own situation escalates when she is informed that her daughter Claire has been kidnapped.
Most of the book is written from Emma's first person perspective but there are some chapters written from the abductor's point of view which shows their past trauma and motive. There are plenty of twists as Emma has serious doubts about who she can trust. I also doubted the honesty of most of the characters and suspected everybody of being involved!
There is a strong emotional element to the book. The fear that Emma feels is balanced by the grief she has already experienced following her husband's death. I thought that the emotions felt authentic as they were well described. Set against this raw emotion is the police procedural element of routines as the investigation develops. Emma becomes increasingly frustrated with the police officer in charge for slowing things down or keeping her in the dark.
The School Trip was an intense thriller with a strong emotional thread.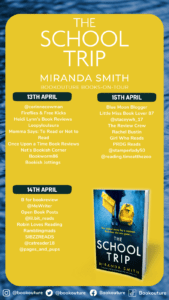 Book Description:
They should have been watching. But my little girl is gone…
On this crisp October day, the class of six-year-old children are wrapped up warm in gloves and coats for their trip to a local farm. They giggle as they stroke the animals and search for the perfect Halloween pumpkin, and as I watch my daughter Claire race off with her friends, the pink ribbon in her hair bouncing, I breathe a sigh of relief. It's been so hard since my husband died and my sweet little girl deserves to be happy.
But as the sun sets and the teachers gather the children, Claire is nowhere to be seen.
We call the police and frantically scour the fields and playgrounds, my heart breaking as I cry out Claire's name. And then a detective shows me a video: my daughter, skipping away from the farm, holding hands with an adult in a bulky coat, their cap pulled down low.
My blood turns to ice. Claire would never leave with a stranger. Whoever took her must be someone I know.
But who could want to punish me this badly? Is it linked to the night I refuse to think about—the terrible night my husband died?
Did my mistakes put my baby girl in danger?
Can I save her by finally facing the past?
Or will I lose her forever when the truth comes out?
A brilliantly twisty thriller that will have you gripped from the first page to the final reveal. Perfect for fans of Gillian Flynn, Ruth Ware and Lisa Jewell.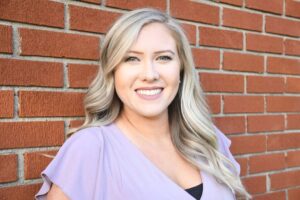 Author Bio:
Miranda Smith writes psychological and domestic suspense. She is drawn to stories about ordinary people in extraordinary situations. Before completing her first novel, she worked as a newspaper staff writer and a secondary English teacher. She lives in East Tennessee with her husband and three young children.
Buy Link:
You can sign up for all the best Bookouture deals you'll love at: http://ow.ly/Fkiz30lnzdo