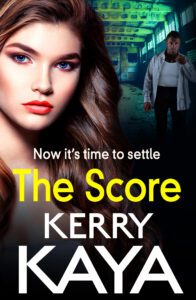 Fletch is released from prison and is shocked to find the situation at home. His son is embroiled in drugs and gangs. His daughter is married to a gang boss and runs a strip club. Their mother is a drug addict and barely recognisable. Can he take control of his family again…?
The Score is a gang crime fiction novel set in London. It is the second book in the series from Kerry Kaya but I have not read the previous book which is called The Price. It is not necessary to catch up on the plot as there is enough detail, however there are spoilers about events in the past.
Austin and Kit's life choices have been affected by their father's crime and enforced absence. They have a skewed version of him so he needs to work quickly to repair his reputation and heal their emotional wounds. The main characters all have a slightly softer side when it comes to family and woebetide anyone who physically or emotionally hurts their loved ones.
Fletch's character is more relatable and likable than either of his children. He went to prison for protecting his brother but tore his family apart in the process. He has a high sense of morals despite his criminal activities and his lasting friendship with Stevie shows his gentler loyal side.
There is plenty of drama as the plot develops. A drug deal has gone wrong after the drugs were stolen. Kit's husband suspects her brother and she cannot protect him. This produces intense danger for almost every character and ramps up the tension. As you would expect from a gangland novel, there is a lot of violence and swearing right from the first page. This is relentless but in keeping with the genre so does not seem extreme.
The Score was an intense and brutal novel but I found myself immersed in the lives of the characters, and I hope there is a sequel.

The Score 
He did the crime…
Twenty years ago, Fletch avenged the gangland killing of his younger brother, Spencer and accepted his guilt. But his actions meant he had to leave his precious children, Austin and Kitty to fend for themselves. He thought they would be looked after…
Served his time…
Now a free man, Fletch returns to find his family in chaos, devastated by his prolonged incarceration. Kit is married to notorious gangster Rosco Taylor, while Austin seems hell bent on doing everything he can to create a turf war.
Fletch knows he has to do something to get his kids under control, but he also knows that the seeds of this disaster were planted long ago by his own reckless actions.
Now Fletch is back and it's time to settle the score.
Another gripping gangland read by Kerry Kaya. Perfect for fans of Kimberley Chambers, Martina Cole, Heather Atkinson and Caz Finlay.
Author Bio –
Kerry Kaya is the hugely popular author of Essex-based gritty gangland thrillers with strong family dynamics. She grew up on one of the largest council estates in the UK, where she sets her novels. She also works full-time in a busy maternity department for the NHS. Kerry has signed a nine-book deal with Boldwood for both new and backlist titles. Her first book The Price was published in July 2021.

Social Media Links