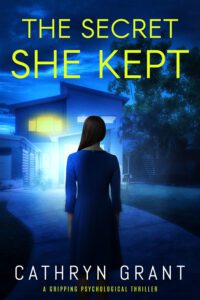 TRIGGER WARNING: rape, adoption, cancer
Ruth has a wonderful husband and a thriving business: everything she could wish for. But she is also harbouring a secret. Nadia arrives on her doorstep declaring that Ruth is her biological mother and starts to blackmail her…
The Secret She Kept is a psychological thriller set in America.
At the start of the book we meet Nadia as she commits murder in revenge for the death of her adopted mother. This sets her up as a very dangerous individual and creates a tension and anticipation as she then sets her sights of Ruth. She inveigles herself into Ruth's life, threatening her personal and professional relationships.
Ruth has kept her teen pregnancy and the identity of the baby's father a secret for over 20 years. Now she is desperate to stop Nadia revealing the truth and destroying her marriage. She becomes increasingly scared of Nadia and feels powerless in the face of her vengeful daughter.
The book is written from the first person perspectives of Ruth and Nadia. This allows the reader to empathise with both even though we dislike their choices and actions. Both women are flawed and haunted by events out of their control. I felt that the ending stretched my credulity a little too far but the epilogue left me wanting more.
The Secret She Kept is a powerful novel about the danger of secrets.
I have previously reviewed The Favorite Child by Cathryn Grant.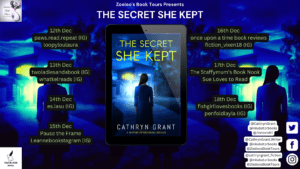 Book Blurb
There are some things you just don't see coming. Like Nadia.
Ruth feels like she's living the dream. She is happily married to the love of her life, Cameron, and she is deeply fulfilled in her work – running the wellness center that grew out of their shared vision.
But something feels off to Ruth about a new client, Nadia. She asks so many probing and personal questions about Ruth's life. It feels intrusive to the point where Ruth asks the young woman to leave.
But Nadia isn't going anywhere.
Because she knows far more about Ruth than she let on. In fact, she knows everything about Ruth's past, including the dark secret Ruth thought was locked forever inside her own heart.
Now, Nadia is blackmailing Ruth, putting her under unbearable stress. Ruth can't get rid of Nadia – who has inserted herself into the family home – but she has no way to get the money Nadia is demanding without Cameron finding out. And if Cameron discovers what happened all those years ago, she knows she'll lose him forever.
Ruth feels utterly trapped, on the brink of losing everything that matters to her. And she begins to wonder just what she is willing to do to protect… the secret she kept.

Author Bio
Cathryn Grant writes psychological thrillers, psychological suspense, and ghost stories. She's the author of twenty-three novels. She's loved crime fiction all her life and is endlessly fascinated by the twists and turns, and the dark corners of the human mind.
When she's not writing, Cathryn reads fiction, eavesdrops, and tries to play golf without hitting her ball into the sand or the water. She lives on the Central California coast with her husband and two cats.
Follow her at: