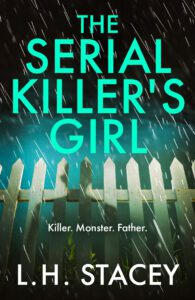 Lexi Jakes is keeping a secret from her husband. She is actually the daughter of an infamous serial killer. But now a copycat killer has tracked her down and she is desperate to protect herself and her daughter…
The Serial Killer's Girl is a stand alone psychological thriller set in the UK. Geography plays a relevant role in the plot as Lexi flees to the island of Lindisfarne which has limited access depending on the tides.
Lexi's father is a notorious killer and she hasn't seen him or her mother for decades. Her mother is killed in the same manner as her father killed his victims and Lexi fears she or her own daughter are next. She flees to her foster mother but has to confront her past.
The majority of the book is written in the third person to show Lexi's perspective. However, there are some chapters written in the first person to show the viewpoint of the person seeking revenge. I liked the dual perspective to show the motives of the killer as well as ramp up the anticipation as they get closer to Lexi.
The identity of the copycat killer is sustained well over the course of the book and I was kept guessing and had loads of different theories. I felt that the pace of the novel was good overall but there seemed to be several twists crammed in at the end so their impact was lessened in my opinion.
The Serial Killer's Girl is an enjoyable thriller.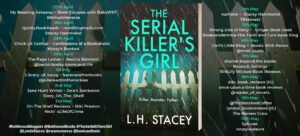 The Serial Killers Girl
Does a killer's blood run in the family?
Lexi Jakes thought she could run from her past.
But when her biological mother is found dead, strangled with a red silk scarf and holding a chess piece, Lexi knows that her worst nightmare has come true. Because the murder has all the hallmarks of her own serial killer father, renown strangler Peter Graves.
Now with her own precious daughter's life in danger, Lexi will do anything to keep her child safe…she is her father's daughter after all.

Author Bio –
Lynda Stacey is the bestselling psychological suspense author of over five novels. Alongside her writing she is a fulltime sales director for an office furniture company and has been a nurse, an emergency first response instructor and a PADI Staff Instructor. She lives near Doncaster with her husband.

Social Media Links –