A relaxing Munro-bagging in Scotland turns to murder. Fiona MacLeish is enjoying a mountain excursion with friends when the weather takes a turn for the worse. Her team meet up with aother on the way back down but one of tthem is severely injured and Fiona is convinced it was a dleibertae attack. The group find shelter in a bothie but is there a murderer in their midst?
The Shelter is the third book to feature PC Fiona MacLeish but it is the first I have read.
Fiona is enjoying a relaxing climb with her friends when the weather turns. She has some preoccupation with events from the past which I assume happened in the earlier books. Her group unites with another as they make their way down the mountain. One of the group is injured and Fiona sees a rock covered in blood so thinks that the man has been deliberately hurt but by who?
We are straight into the action as we follow Fiona's adventures on the mountain. There are mentions of her notoriety and she fears being recognised. However there are no spoilers about the outcomes of earlier books although they must have been well publicised in this fictional world.
The weather and lonely landscape add to the tension that Fiona feels as she begins to uncover potential suspects and motives. The group are in danger from the winter as well as a killer in their midst. I liked Fiona's character and want to catch up on her earlier cases to better understand her references to the past.
The Shelter is a tense crime thriller and I liked the claustrophobic element of being alone on a mountain with a group of strangers.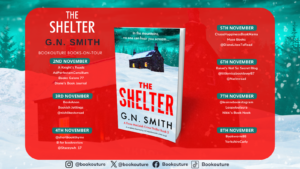 Book Description:
An agonised scream cuts through the roar of the snowstorm. Horrified, Fiona twists around to look at the group of hikers behind her. There are four people, where there should be five…
When police officer Fiona MacLeish stumbles upon a group of fellow hikers in dire trouble in the dramatic peaks of the Scottish Highlands, she has no choice but to help. One of the party has fallen off the path, lying below with the crisp white snow around his head starting to turn scarlet.
Fiona soon learns the potential accident is actually a deliberate murder. But who would want to hurt this man and why? With visibility worsening and the snowstorm getting worse, Fiona and the group of hikers make it just in time to a nearby shelter. As Fiona questions those in the party, she realises that everyone is keeping secrets about their relationship with the victim. Any one of these hikers could be the killer…
When another brutal attack happens, it is clear that the murderer is still among them.
Trapped in a shelter at the top of a mountain, Fiona must move fast and identify the killer before they strike again. When her role as a police officer is revealed, Fiona herself becomes a target. With tensions rising and food running out, she knows she doesn't have long until more people die. But can she find the killer and save herself and the innocent hikers in time?
The Shelter is the third book in the Fiona MacLeish series, set in the remote Scottish mountains. Fans of J.M. Dalgliesh, J.D. Kirk and Simon McCleave will love this character-driven police procedural with a dark twisty plot.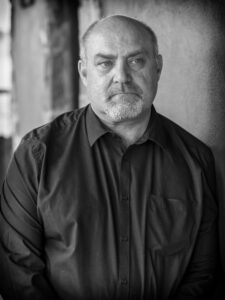 Author Bio:
Graham Smith is a time served joiner who has built bridges, houses, dug drains and slated roofs to make ends meet. Since Christmas 2000, he has been manager of a busy hotel and wedding venue near Gretna Green, Scotland.
He is an internationally best-selling Kindle author and has six books featuring DI Harry Evans and the Cumbrian Major Crimes Team, and four novels, featuring Utah doorman, Jake Boulder. His 'Lakes' series which has three novels featuring DC Beth Young has received much critical acclaim.
Graham is the founder of Crime and Publishment, a weekend of crime-writing classes which includes the chance for attendees to pitch their novels to agents and publishers. Since the first weekend in 2013, sixteen attendees have gone on to sign publishing contracts.
Graham also writes as John Ryder and G.N. Smith.
Buy Link:
You can sign up for all the best Bookouture deals you'll love at: http://ow.ly/Fkiz30lnzdo