Susan HIll has been terrifying me since I was little (aged about 10 and there is NO WAY I would let Matthew read it as he approaches the same age!) when I read and then watched The Woman In Black. I also saw the theatre production in my 20s and scared myself silly.
Simply spooky and devastatingly good.
I have had The Small Hand on my Kindle for ages but not got around to reading it. Then I saw that a TV version was being aired over the Christmas holidays and decided to read the book before watching the show.
Adam Snow is a dealer in antique books and travelling home one day he discovers The White House, an abandoned stately home and gardens. Whilst exploring the grounds, he feels a small hand hold his. There then follows a number of spooky incidents and danger. Adam returns to the house to look for answers and meets an elderly woman but is she a ghost as well…?
It is a short book of only 170 pages so easy to read in a couple of hours. I made the BIG MISTAKE of reading it at night and stopping halfway to sleep. An hour later, I woke from a ghostly nightmare and clung to Chris, terrified that a small figure would grab my hand (not Zach this time).
The Small Boy is genuinely creepy. I found the characters to be realistic which added to the unsettling feeling as it could be real (I do believe in ghosts!)
The ending of the book disappointed me a little as it was too subtle and left questions unanswered. However, my overall impression of the book is a respectful 'fearfully good'.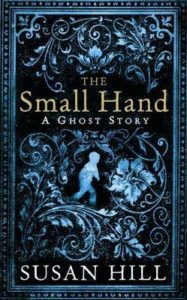 There was no way that I was going to watch Susan Hill's A Ghost Story on my own or at night so I called in my mum to 'protect' me during a daytime viewing.
So how did the TV version compare with the book? Well, it was completely different!
I appreciate how difficult it must be to convey fear and horror of the subtlety that Susan Hill uses in her writing without a load of special effects, spooky music and panoramic camera angles.
The plot had a slight shift in focus as subsidiary characters were given prominence, in particular Adam's brother and his friend's wife. Who he just happens to be having an affair with… Cue some bonking which is definitely not in the book! (Bonking is Mum's word :D)
Denisa is a young woman and very definitely a ghost in the TV adaptation. Yep, more bonking in a flashback scene…
We didn't jump with terror whilst watching it (except when my postman sneakily delivered the post, I wish Ollie wasn't deaf so could still bark a warning!)
The ending was completely unexpected due to a deviation from the book. The final scene was utterly chilling and heartbreaking, leaving a lingering feeling of sadness and dread.
Overall, I found the book much more terrifying than the TV adaptation but enjoyed both.
Buy The Small Hand book on Amazon:
Watch it on Channel 5 catch up here:
Do you like ghost stories? Did you watch Sysan Hill's Ghost Story over Christmas or have you read any of her books?