Tom Fabian is the central character is this book. I found out at the end that this is actually the second book to feature him and the first novel deals with the case that forms the basis for the plot in this book. It didn't spoil this book at all not to have read the previous one.
Christopher Wisher is in prison for murder. He summons Fabian to visit him and hands him a diary. Fabian dismisses the diary as irrelevant but then Wisher commits suicide and bodies start to appear. Is there a copycat killer? Has Wisher manipulated someone into continuing his work?
Meanwhile, Fabian's daughter is in danger too…
I really enjoyed this book. It was easy to read and the characters are appealing and pleasant. The sense of danger that Tilly Fabian is in is a great narrative strand, giving an emotional side to contrast with the police procedure. There is also a personal side to Fabian and his police colleagues which I'm sure will be developed in later books.
I admit to feeling a little disappointed at the ending as it all wrapped up very quickly. However, the final chapter which hints at the future novels was a great hook to make me want to read more!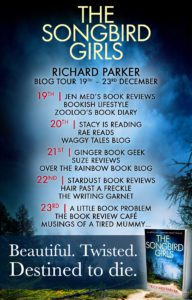 Title:  THE SONGBIRD GIRLS
Author:     Richard Parker   
Buy Links:         
PUBLICATION DAY:  December 19th
Description:
Her eyes were closed. 
From a distance the blood around her neck might have looked like a necklace, but up close her body told a different tale.
 She had been murdered. A tiny songbird lay beside her, its neck broken… 
Detective Tom Fabian
's past is catching up with him. It has been years since the most high-profile case of his career – when his evidence put infamous serial killer Christopher Wisher behind bars forever. But when 
Wisher
 summons a reluctant 
Fabian
 to his prison cell to hand over a diary, 
he realises that Wisher's twisted games are far from over.
Shortly after Fabian's visit, Wisher is found dead in his cell. And a few days later, 
the police find a woman's body bearing Wisher's signature, a dead songbird
. But the police never released this detail to the public… 
so who has Wisher been talking to?
Fabian
 is desperate to find the killer before another innocent life is taken. But as more bodies turn up, 
Fabian begins to realise that Wisher may have handed him the clues before he died. Is the twisted serial killer still pulling the strings from beyond the grave…?
If you can't get enough of crime thrillers by Adam Croft or Melinda Leigh, you will love 
The Songbird Girls
. 
 
Author Bio:
Richard Parker was formerly a TV script writer, script editor and producer before turning his hand to penning twisted stand-alone thrillers.
Author Social Media Links: