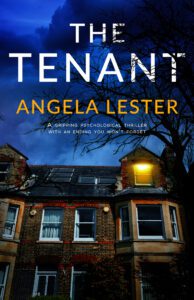 Kate uproots herself and heads to university as a mature student to study music and finally follow her dream. She is a bit strapped for cash but finds a reasonably priced room in Amy's house. But gradually Kate's life gets out of control and she starts to suspect a malevolent influence…
The Tenant is a psychological thriller set in Cardiff.
The main character is Kate. She has some huge emotional obstacles to overcome including  unrequited love and the death of her sister. Finally she is putting herself first and aims to become a teacher. But her studies suffer as she starts acting strangely and has black out periods which threaten her fresh start.
The book is written from Kate's first person persctive so we naturally ally ourselves with her and feel the same confusion and disorientation she experiences. Kate's landlady Amy made me deeply uncomfortable and I distrusted her from the beginning. There are no boundaries and the relationship is unequal from the start.
The tension develops steadily and Kate doesn't know if she can trust herself let alone anyone else. She becomes isolated due to her repeated episodes of ill mental and physical health. I really wanted to yell at her to escape her situation but understand how she was trapped. I found the ending and explanation to be a little extreme so just suspended my disbelief and enjoyed the drama.
The Tenant is an entertaining thriller with a well maintained tense atmosphere.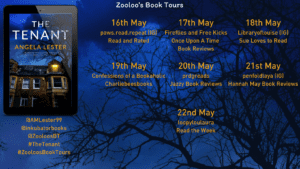 Book Blurb
Amy is the perfect landlady. But she does have some ground rules…
Kate has always dreamed of a life in music. And now she's finally done something about it – giving up her steady job, moving to the city to enroll in a degree program at a prestigious college.
Needing a place to live, she answers an ad and moves in with Amy who seems a nice lady – mothering and protective.
At first Kate is glad to have some support in this strange city, but gradually Amy's presence becomes more and more stifling – it just seems so hard to get away from her. And every time Kate tries, something terrible happens…
As her life spirals downwards, Kate struggles to understand what's happening. Is Amy plotting against her? Or is she simply buckling under the stress of adjusting to her new life?
Fearing for her sanity, Kate knows she needs to get some answers and begins to look into the history of the creepy old house she shares with Amy. What she finds is beyond her worst nightmares…
The Tenant, the terrifying psychological thriller perfect for fans of K L Slater, Jane Renshaw, Teresa Driscoll
Buy Links
Amazon UK –  https://www.amazon.co.uk/Tenant-gripping-psychological-thriller-ending-ebook/dp/B09Z6W745R
Amazon US –  https://www.amazon.com/Tenant-gripping-psychological-thriller-ending-ebook/dp/B09Z6W745R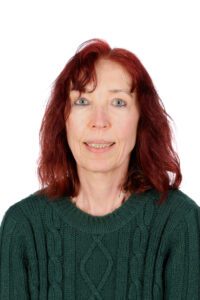 Author Bio
Angela Lester loves writing psychological suspense that explores the dark side of human nature.
A philosophy graduate, she came over from Germany in 1991 and has lived in Cardiff ever since.  She plays the piano, sings in a choir and loves walking in the great Welsh countryside. Angela has worked as bookseller and translator, but her real passion is writing. She has written short stories and novels in German and English. The Tenant is her first published thriller.
The Tenant is her first psychological thriller with Inkubator Books.
Follow her at: Twitter:  https://twitter.com/AMLester99