Damon Kennedy is the victim of a hit and run. His wife, his lover and his therapist are all interviewed by police. Was it a terrible accident or a deliberate attempt to kill a serial adulterer?
The Truth About The Accident is a psychological thriller and domestic drama set in Australia.
The book begins with different reports to the emergency services of the accident. It was fascinating to see how different people viewed the same incident, what details they remembered and how they were distracted by their own circumstances.
Marla has always tried to be the perfect wife and has accepted Damon's apologies after every affair. Sonya was Damon's therapist but her behaviour was definitely unethical. Athena is Damon's latest lover and pregnant with his child, refusing to have an abortion. Did one of these women seek to hurt Damon in revenge?
The book is written from 4 viewpoints. Marla, Sonya and Athena's perspectives are all presented in the third person to show the minutiae of their relationships with Damon and their reactions to the accident and police investigation. The fourth viewpoint is written in the first person and the identity is not given. This person has a malevolent tone which creates a wonderful tension as we ponder who it could be.
I was kept guessing about who was responsible and felt that the mystery was well maintained. Damon became more unpleasant in my eyes as his personality is revealed through the women's reflections. I was almost glad he'd been injured after the way he kept hurting the women he professed to love!
The Truth About The Accident is an entertaining book full of mystery.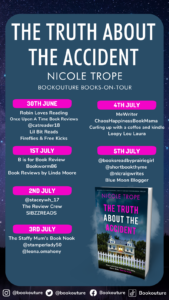 The Truth about the Accident: A totally gripping family drama filled with secrets and lies
I gaze at my husband's once-handsome face, so still and pale in the hospital bed. The doctors say I should keep talking. He might be able to hear me even after the terrible accident that left him fighting for his life. But all I have to whisper to my husband is this: I know what you did.
Every day I wave my husband Damon off with a kiss and a smile, drive our precious children to school, and make sure our house is pristine before preparing a delicious meal. I pretend I'm not filled with fury that he once nearly destroyed our perfect life. It's important to carry on as normal.
That is, until the accident.
My husband was hit by a car. It was pouring with rain. Nobody saw what happened. But the police are asking questions…
Do they know about the terrible argument we had that day?
Do they know about the text message I sent, telling someone to Delete everything?
And do they know that no-one is happier that my husband is in a hospital bed, than me?
An absolutely addictive page-turner about a family in crisis, a marriage at breaking point, and how secrets can be deadly. Perfect for fans of Liane Moriarty and Sally Hepworth.

About the author
Nicole Trope went to university to study Law but realised the error of her ways when she did very badly on her first law essay because-as her professor pointed out- 'It's not meant to be a story.' She studied teaching instead and used her holidays to work on her writing career and complete a Masters' degree in Children's Literature.
The idea for her first published novel, The Boy under the Table, was so scary that it took a year for her to find the courage to write the emotional story. She went on to publish a further five novels in Australia before joining Bookouture in 2019. She is a USA Today and Amazon bestseller in the USA, UK, AUS and CAN.
Nicole lives in Sydney with her husband and three children.
Author social media
Facebook: @NicoleTrope
Twitter: @nicoletrope