TRIGGER WARNING: sexual abuse
1941: years ago Josephine Fox left Romsey under a cloud, rejected by her family due to being illegitimate. Now she returns to search for her father. She arrives just after a devastating bomb attack on the local pub. But one body was a murder victim instead of dying in the bomb blast…
The Unexpected Return of Josephine Fox is a murder mystery set in war torn England. The gender and class norms of the era play a significant role in the plot as well as character development. There are references to sexual abuse in the past but they are not explicit or graphic.
I felt so sorry for Josy: the rejection of her family for circumstances beyond her control seems so cruel yet authentic in light of the era the book is set in. She also has issues in her marriage which are revealed over the course of the book. Her childhood and recent past with Bram Nash leads to both conflict and affinity as they work together on the case.
A teen's body is pulled out of the bomb destroyed pub with no damage to it. Bram, the coroner, refuses to sign the death certificate until he is satisfied on the cause of death. Josy becomes Bram's assistant and begins to investigate which puts her and others in danger. Meanwhile she is searching for a connection to the father that ruined her mother's life and never acknowledged his child.
The narrative flits from Josy's first person experience to other perspectives in the third person (almost all Bram but a little from the victim). There are some peeks at the past for Bram and Josy but also Ruby just before her death. This adds depth to the characters and their circumstances. Josy and Bram find themselves judged due to their pasts and I was keen for them to rekindle their friendship, if not more.
The Unexpected Return of Josephine Fox is an enjoyable murder and mystery novel with strong lead characters.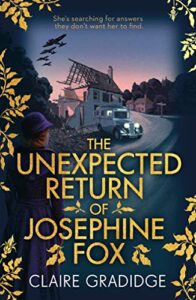 WINNER OF THE RICHARD & JUDY SEARCH FOR A BESTSELLER COMPETITION
April 1941, Romsey, England.
Josephine 'Jo' Fox hasn't set foot in Romsey in over twenty years. As an illegitimate child, her family – headed by her controlling grandfather – found her an embarrassment. Now, she wants to return to what was once her home and uncover the secret of her parentage. Who was her father and why would her mother never talk about him?
Jo arrives the day after the Luftwaffe have bombed the town. The local pub has been completely destroyed and rescue teams are searching for the remains of the seven people known to have been in the pub at the time the bomb hit. They are shocked, however, to uncover eight bodies instead. The eighth, unidentified, body is that of a teenage girl, who no one in the town claims to know. Who is she, how did she get there, but most importantly – who killed her?
Teaming up with local coroner and old friend, Bram Nash, Jo sets out to establish the identity of the girl and solve the riddle of her death. In doing so, she also uncovers her own personal mystery.
Everyone has secrets – some are just more deadly than others . . .