A burned out car with a body in the driving seat. Coroner's assistant Jo Lester suspects that her husband is involved with the incident. But is he the victim or the killer, or is she biased and he is in fact completely innocent?
A Conflict of Interests is the third book to feature Jo and coroner Bram Nash in Romsey, England during WW2. However it would work as a stand alone novel and does not contain spoilers about the cases in the earlier books.
This book is set a couple of years after the last book. D Day is imminent and the soldiers have moved out. Jo's ex was due to leave too and now he has disappeared but is this due to an involvement in the burned car incident?
Jo finds herself leading the investigation as her coroner employer and past lover Bram is rushed to hospital. She finds that the gender and class stereotypes of the time again thwart her efforts to be accepted and respected in her role.
Jo and Bram's relationship has stalled completely on the romantic front thanks to the reappearance of her estranged husband. Their feelings for each other come to the fore as Bram is hospitalised, Jo is frantic for his safe recovery and he focuses on her to help him get better.
As before, the majority of the book is written from Jo's first person perspective. We also see Bram's viewpoint in the third person but it was highly effective for showing his fevered thoughts as he suffers from an infection of his old war wound.
A Conflict of Interests is an entertaining murder mystery and I continue to enjoy the development of the main characters' relationship.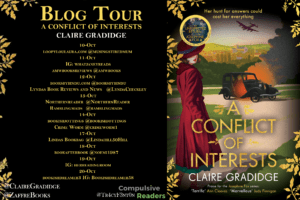 ABOUT THE BOOK:
June 1944, Romsey, England.
Josephine 'Jo' Fox is at an impasse since the unwelcome return of her wayward husband Richard. So, when he disappears again, she is neither concerned nor surprised – until a burning car is discovered with a body inside. And there are signs that Richard is somehow involved.
Jo is determined to find both her husband and answers, yet with her friend Bram Nash in hospital suffering an infection of his old war wound, she must do so alone. When information comes to light that implicates Bram too, Jo finds herself on a dangerous path to the truth.
But what will be left for her when all is revealed?