Marco Venetti is a priest with a past. One of passion and peril. Now he is settled into his church life until one day his former love Elena arrives to give confession. Her family are being held hostage and she wants absolution for the crimes that will result from her efforts to free them. Marco jumps into action to save Elena and becomes embroiled in a conspiracy to counter a plot to murder the pope.
It has been a while since I've read an action thriller and I really enjoyed it! The mission makes completely compelling reading and the tension built over the course of the book.
Marco's spirituality and the realism of his human nature were explored convincingly. I also loved the words of wisdom from the pope in relation to the battle against terrorism and the state of the world today. Marco feels torn between his faith and his feelings. He is a really likeable character who does what is right but not always easy, and appreciates the nuances of his actions. His awareness of the consequences for himself and the world make his decision making processes interesting.
The European settings were enjoyable and the lack of a British or American lead made this book feel quite unique. The inclusion of a black pope and the Nigerian Boko Haram added another dimension to the book which felt inspired and original. The ethical and moral dynamic resonates through the events of the book. Religion and politics are inextricably connected and explored in a sensitive way.
The Vatican Conspiracy was a tense and interesting thriller. There is plenty of scope for future books and I look forward to reading more from Peter Vogenkamp soon…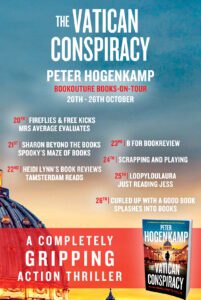 PETER HOGENKAMP Media Kit:
Title: The Vatican Conspiracy
Author:  Peter Hogenkamp
PUBLICATION DAY: October 20th 2020
BUY LINK:
Description:
"Bless me, Father, for I have sinned…" Marco Venetti has heard the words thousands of times before. But this is a cry for help, not absolution—and soon Marco finds himself racing against time to foil a conspiracy aimed at the heart of the Vatican…
It is an ordinary day in Marco Venetti's quiet coastal parish—but the woman who's come to confess is not ordinary. Marco has always been drawn to beautiful Elena, and she brings news that will shatter his peace.
Elena's sister and daughter have been kidnapped, to force her to bring a gang of ruthless men into the country—if she doesn't, her family will be brutally killed. But if she obeys, many more innocents will die… In her desperation she turns to Marco, knowing his time in the military has given him the skills she needs. Determined to protect her, Marco draws on the violent past he has tried to forget.
A terrifying battle on a rocky island offshore leaves no survivors. But after the last man is dead, Marco finds a note on one of the men's bodies, a map that reveals their ultimate goal: a deadly terrorist attack on the Vatican City itself.
Marco and Elena find themselves racing to reach the Vatican City, and stop the deadly threat against the pope. But Marco quickly realises that his mission isn't over. Accompanied by a CIA assassin, Marco must prevent a deadly weapon falling into the wrong hands or see a truly apocalyptic outcome. Once more he must confront his own darker nature, and decide whether a man of God can justify going to war…
For fans of Joel C. Rosenberg, Tom Clancy and Steven Konkoly, The Vatican Conspiracy is a non-stop explosive thriller of betrayal, revenge and world-shaking conspiracy.

Author Bio:
Peter Hogenkamp was born in upstate New York and attended the College of the Holy Cross in Worcester, Massachusetts. (Go Crusaders!) He graduated in 1986 and was exiled to Europe for three years by his premedical adviser, for which he will be grateful the rest of his days. Spending the next three years – supposedly – teaching chemistry and algebra in Salzburg, Austria, he traveled extensively, drank a lot of beer and made many a lifelong friend. In his travels, he found dozens of great places for scenes in a thriller: castles perched on cliffs; monasteries tucked away in alpine valleys; villages built above rocky coastlines; cities soaked in history. When he isn't writing or hiking with his strong-willed Cairn Terrier, Hermione, Peter practices medicine with his lovely wife, Lisa (who does most of the heavy lifting), hosts Your Health Matters, which airs on cable television, streams on YouTube and sounds off on podcast, and tends to the needs of his four children.
Author Social Media Links: