A young woman is found dead at the bottom of a viaduct. She has a suicide note in her pocket but her mother convinces the police it is fake. More victims are discovered over the next few days and the police are hard at work to prevent further murders…
The Viaduct is the 21st Book to feature DS Jason Smith, his family and his police colleagues. There is so much backstory by now that, although the criminal case works as a standalone, there are a lot of personal and professional relationships to understand so reading the previous books would be my recommendation (plus they are fab!)
This book had a very dark tone. A network of drugs, manipulation and murder all interweave in a sinister manner. The dead women had a new and scary drug in their system which completely altered their perception and made them vulnerable to the evil suggestions of others. The suspects were all portrayed in the worst possible light to make you eager for the police to succeed in stopping them.
Smith and Whitton's experience of parenting a teenager is terrifying for those of us that are parents. Lucy is attempting to establish her own independence and increasing freedom but she is naive and trusting which puts her in danger. I felt that the personal relationships depicted in the book all felt natural and authentic.
This series is well written and the pace is so quick. The book is dialogue led although there are descriptions of the characters, settings and deaths that bring the events to life. Unfortunately, I wasn't keen on the ending. I didn't feel that the Smith acted in character even though I approved of his choices. In my opinion there were still some loose ends to tie up so I am hoping that these will be resolved in the next book.
The Viaduct is a vivid and disturbing detective thriller.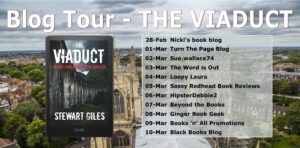 The Viaduct (A DS Jason Smith Thriller Book 21)
From bestselling author: Stewart Giles comes another brilliant addition to the Detective Jason Smith series
Two hundred feet below an old bridge, a teenage girl lies battered and bruised. Barely alive, she knows she's not going to make it.
Two days later, another teenager is found in almost exactly the same spot.
Suicide. That's what the papers are saying.
But when a third victim of the now legendary viaduct turns up, Detective Sergeant Jason Smith doesn't buy it. Something else is happening here – something much darker.
As Smith and the team start asking questions, the investigation takes a turn for the worse when things get much closer to home.
Smith's adopted daughter goes missing, and when he finds out she was last seen close to this sinister viaduct, he fears the worst.
Smith knows he's running out of time.
Will he get to the truth before the viaduct lures its next victim to their death?
What readers are saying about Stewart Giles' books:
This author has once again captured another best selling read for his readers, that you won't be able to put down. – Booklover Bev
I love Stewart's books- there is always a comfort about them despite the subject matter, of a warmth of characters and a plot that draws the reader in very quickly. – Misfits farm
I haven't read such a brilliant detective thriller for quite while. This is one of the best ever. – LooseBoots
My first introduction to this author's work and wasn't my last by any means. – Patricia Burton
My first read from this author ..5 stars ..Stunning storytelling.. – Livia
Totally gripping, it has the perfect balance of action, mystery and humour and this is written by a very talented and passionate author, I loved every page – thank you. – Sarah

Stewart Giles – Author Bio
After reading English at 3 Universities and graduating from none of them, I set off travelling around the world with my wife, Ann, finally settling in South Africa, where we still live.
In 2014 Ann dropped a rather large speaker on my head and I came up with the idea for a detective series. DS Jason Smith was born. Smith, the first in the series was finished a few months later.
3 years and 8 DS Smith books later, Joffe Books wondered if I would be interested in working with them. As a self-published author, I agreed. However, we decided on a new series – the DC Harriet Taylor: Cornwall series.
The Beekeeper was published and soon hit the number one spot in Australia. The second in the series, The Perfect Murder did just as well.
I continued to self-publish the Smith series and Unworthy hit the shelves in 2018 with amazing results.  I therefore made the decision to self-publish The Backpacker which is book 3 in the Detective Harriet Taylor series which was published in July 2018.
After The Backpacker I had an idea for a totally new start to a series – a collaboration between the Smith and Harriet thrillers and The Enigma was born. It brought together the broody, enigmatic Jason Smith and the more level-headed Harriet Taylor.
The Miranda trilogy is something totally different. A psychological thriller trilogy. It is a real departure from anything else I've written before.
The Detective Jason Smith series continues to grow. I also have another series featuring an Irish detective who relocated to Guernsey, the Detective Liam O'Reilly series. There are also 3 stand alone novels.
Twitter: @stewartgiles