Hattie is an unhappy temp, commuting to and from London every day. She usually catches the 18.53 train home and one day an incident stops the train. Those in the carriage strike up an unlikely friendship until one of them dies…
The Woman in Carriage 3 is a psychological thriller set in the UK.
Hattie is in her late 20s and back living at home with her parents. Her career is going nowhere and her lovelife relies on one night hook ups via apps. She meets a diverse range of people on her daily commute and friendships begin to form. Hattie even begins to hope for a chance at dating one of them. But all of the train passengers are being 100% honest and we know from the prologue that someone dies.
I found it difficult to warm to Hattie. She drinks too much and is quite selfish. Knowing the reticence of the British public on transport, I had to suspend my disbelief about a conversation developing let alone friendships forming!
There are multiple narrators to show us a variety of perspectives which allow us insights into different characters as well as setting up twists. The prologue creates a mystery and anticipation as we wait to find out who has died and try to work out if it had a sinister cause.
The Woman in Carriage 3 is an enjoyable book with twists and mystery.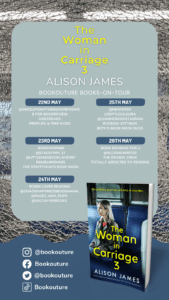 Book Description:
An ordinary journey. A shocking secret. And the perfect murder…
Breathlessly, I rush into carriage 3 just as the train doors slam behind me. It's the same train I get home every night – the 18.53 – and I always sit in the same seat, with the same people. Each journey is fairly uneventful. Except this one…
A passenger drops dead and shockwaves ripple through the train. The lights go out and we're left waiting in darkness, trapped until further notice. Is it an accident, or something more sinister?
The unwritten rule is you don't talk to your fellow commuters, but the group of people huddled around me all seem like nice, normal people. I just hope they don't notice my dishevelled hair or smell the alcohol on my breath. Because my life is far from perfect and there are things I've done I'm not proud of.
But as we all get to know each other, I wonder if I can really trust them? Or are they all hiding dangerous secrets…
Was someone in carriage 3 involved in the passenger's death? And if so, how far will they go to stop the rest of us finding the truth?
An absolutely addictive psychological thriller that will keep you up late into the night. If you love Behind Closed Doors, Gone Girl and The Perfect Couple, you'll be gripped.

Author Bio:
Alison James was born in the Cotswolds but spent most of her formative years abroad. She studied languages at Oxford, then became a journalist and author, returning to university after her two children to take a law degree. After a three-year stint as a criminal paralegal, she worked as a commercial copywriter and then a TV storyliner, before coming full circle to write fiction again.
Sign up to be the first to hear about new releases from Alison James here:
Buy Link:
You can sign up for all the best Bookouture deals you'll love at: http://ow.ly/Fkiz30lnzdo