A support group for widows is targeted by a killer. Detective Inspector Lottie Parker has an emotional and intriguing case to unpick. Can she keep the other widows safe?
Three Widows is the 12th book in the Lottie Parker series. Each can be read as a stand alone novel but the personal side of Lottie's life has threaded through the books.
Jennifer's mutilated body is found in a field. The forensic details are quite grisly but delivered in an objective way by the pathologist. DI Parker discovers the victim vanished a month ago and was a member of a widows' support group. Then another widow disappears and Lottie's team frantically try to locate her before the killer strikes again.
Most of the book is written from the third person perspective which allows us to see Lottie's investigation as well as anticipate the next victim. We also see the killer's viewpoint as they plan and carry out their crimes.
Lottie's personal life faces turmoil once more. Her mother is becoming more confused as dementia takes hold. Her boyfriend Boyd has been reunited with the young son he didn't know existed but now his ex is back on the scene. Lottie needs to juggle her homelife with her career and try not to leave either affect the other.
Three Widows is an enjoyable detective murder mystery and thriller.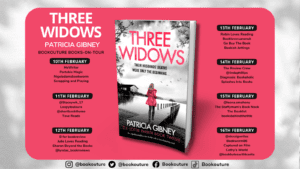 Book Description:
She kissed her daughter, turned out the light and entered her own room. Too late to run, she stood frozen as a figure stepped out from behind the door and a hand covered her mouth. Fear was a bomb in her chest ready to explode. Her children. They'd already lost their daddy; they couldn't lose her too.
When young widow Éilis Lawlor disappears in the middle of the night, with her two little children asleep in their beds, it is a chilling case for Detective Lottie Parker. Since her husband's tragic death, Éilis is all her children have, and when Lottie sees Éilis's house keys and phone still lying on the kitchen counter, she is terrified for the vulnerable mother's safety.
Then Éilis's broken body is found by a nearby lake, wrapped in an unfamiliar yellow dress, her mouth sealed with duct tape – and Lottie's worst fears are confirmed. Someone wanted this beautiful widow dead.
Desperate to find the person behind this brutal crime, Lottie discovers that Éilis was a member of a support group for widows. And when Jennifer, a close friend of Éilis's from the group, is found on a rubbish heap, wrapped in a yellow dress, Lottie vows to get justice.
Lottie dives into Jennifer's past, and learns that she had lived a reclusive life since her husband died. She hadn't been seen at work for months and had sheltered inside her immaculate home, only emerging for meetings with the group. But when Lottie questions the other women about Jennifer's isolation, they claim to know nothing.
Lottie is certain that the remaining widows are hiding something. Can she uncover the truth before another innocent life is lost?
An absolutely gripping and totally addictive thriller that will keep you racing through the pages all night long. Fans of Robert Dugoni, Rachel Caine and Karin Slaughter will devour Three Widows in one sitting!

Author Bio:
Patricia is the million-copy bestselling author of the DI Lottie Parker series. She yearned to be a writer after reading Enid Blyton and Carolyn Keene and even wanted to be Nancy Drew when she grew up. She has now grown up (she thinks) but the closest she's come to Nancy Drew is writing crime!
In 2009, after her husband died, she retired from her job and started writing seriously. Fascinated by people and their quirky characteristics, she always carries a notebook to scribble down observations.
Patricia also loves to paint in watercolour and lives in the Irish midlands with her children.
Buy Link:
You can sign up for all the best Bookouture deals you'll love at: http://ow.ly/Fkiz30lnzdo