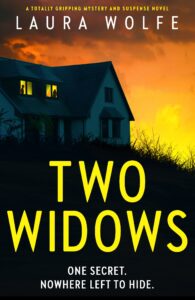 Gloria Flass is looking for some extra income following the death of her beloved husband Charlie. She rents out part of her land to travel writer Beth who then reveals that she too is a widow. But strange things are happening in town and at Gloria's: the murdered body of a young woman is found and Gloria's garage apartment is broken into…
The plot is delivered through a dual timeline narrative of Gloria in the present and Elizabeth in the past. Gloria is isolated, rejected by her church for having a homosexual son who in turns feels betrayed and is avoiding her.
Elizabeth in the past is pregnant when she discovers her husband is having an affair. This leaves plenty of opportunity for the reader to make assumptions about the intervening time. In the present day, Beth doesn't have a baby and has been widowed so it is easy to guess there is heartache ahead 🙁
Two Widows deals with some pretty big themes and topics: infidelity, grief, a parent's reaction to coming out, drugs, murder. I felt emotionally connected to both timelines and there was enough mystery to move the plot on while developing the characters in a sympathetic way.
There is plenty of anticipation and tension built up over the course of the book as the story unfolds. Both women are brave and vulnerable, and have aspects of their personality that are easy to identify with so we are drawn into the plot. The strands of the women's lives and the murder plotline are all tied up neatly at the end leaving a satisfying conclusion.
I really enjoyed Two Widows and am impressed at the emotional element of this psychological thriller.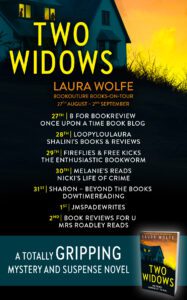 LAURA WOLFE Media Kit:
Title:  TWO WIDOWS
Publication Day: August 27th 2020
Author:   Laura Wolfe
Buy  Link:
Description:
The body of an unidentified woman has been found on a local beach in a small town. The police have no suspects.
Gloria is used to solitude. Widowed and still grieving her late husband, she spends her days with only her faded photographs for company. But when a young woman is murdered nearby, Gloria grows anxious. Living alone in an old farmhouse, surrounded by empty woods, there's no one for miles who would hear her scream.
When freelance travel writer Beth arrives with her trailer to live on Gloria's land, Gloria is relieved not to be alone. The police have no suspects in the murder and fearless Beth makes Gloria feel safe. Then Gloria discovers Beth is a widow too: the women become closer and begin to share their secrets.
But soon Gloria starts to wonder… what does she actually know about Beth? About what brought her to this isolated spot? About how her husband really died? Is it a coincidence that she's arrived just as this small town has seen its first murder in decades?
Gloria thought that Beth had told her all her secrets. She was wrong.
An utterly compelling suspense novel that will have you hooked, Two Widows is a gripping thriller that will keep you up all night. Perfect for fans of Lisa Jewell, The Couple Next Door  and The Woman in the Window.

Author Bio:
Laura Wolfe is a lover of animals and nature. When she is not writing, she can be found playing games with her highly-energetic kids, riding horses, growing vegetables in her garden, or spoiling her rescue dog. She lives in her home state of Michigan with her husband, son, and daughter. Laura's YA mystery, Trail of Secrets, was named as a Finalist in the 2016 Next Generation Indie Book Awards. Laura holds a BA in English from the University of Michigan and a JD from DePaul University. She is an active member of multiple writing groups, including Sisters in Crime and the SCBWI.
Author Social Media Links: