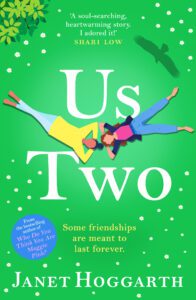 Florence unexpectedly inherits a campervan from her former teacher. She finds an opportunity to reconnect with her former best friend Rowena but can the past be forgotten or forgiven?
Us Two is a book about moving on from the past and has a positive message about the importance of forgiveness.
Florence is running away from her past and avoids thinking about it. Her former teacher Cassie leaves her a campervan in her will and Florence is compelled to confront her history. Cassie had her own friendship issues and wants Florence to learn from her mistakes. So, along with the campervan bequest, she arranges a scavenger hunt to help Florence reconnect with Rowena.
To be totally honest, I felt a bit frustrated by the slow pace. I was eager to find out about Florence's current situation and wanted the mystery of the past to be revealed. However the non linear narrative structure with frequent flashbacks or reflections on the past didn't really suit me although I enjoyed the premise of the plot and the character exploration.
There are some big emotions and life changes included in this book. I really felt sad when Cassie's hope in the opening chapter is then swept away by her diagnosis. Florence has bottled up and denied her feelings about the past as they are too big for her to deal with. These emotional elements contrasted with some moments of humour which keep the tone lighthearted.
Us Two is a warmly toned book about the power of friendship.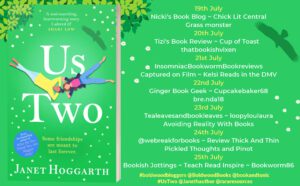 Us Two
When Florence met Rowena, they knew for sure that they would always be friends.
Wayward parents, boring teachers, teenage crushes, first heartbreaks – anything and everything could be faced as long as Florence had Rowena by her side.
But then she didn't.
And life had to be redrawn and reconsidered.
Being a grown-up has its perks, but as Rowena faces the biggest challenge of her life, and Florence wonders if it's time to stop running away from hers, there's a wise soul who knows the one thing that can help them both. Some friendships are meant to last forever, and it's never too late for forever to start again.
Joyous and heart-breaking, laugh-out-loud funny, life-affirming and unforgettable, join Flo and Ro on a journey that will warm your heart and perhaps make you wonder about those old friends who knew you so well.

Author Bio –
Janet Hoggarth is the number one bestselling author of The Single Mums' Mansion and the highly successful Single Mums' subsequent series. She has worked on a chicken farm, as a bookseller, a children's book editor, a children's author, and as a DJ (under the name of Whitney and Britney!). She lives with her family in East Dulwich, London.
Social Media Links –