An elderly woman thinks her former lodger is breaking in to steal her belongings. She reports it several times but isn't taken seriously. But DS Jack Warr thinks something strange is happening and days later Avril is found dead and dismembered…
Vanished is the third book to feature police detective Jack Warr and his colleagues and family. I have previously read and reviewed Buried and Judas Horse.
Avril is a right character and has been written off as eccentric by other officers. Jack sees a kernal of truth in her story and is proved right when she is brutally murdered. The plot then takes a different direction as drugs take centre stage. This leads to conflict as the drugs team and murder team argue over the investigation.
In Jack's personal life, his bride-to-be asks him to look into her boss's daughter's relationship but this has disasterous repercussions for his career. Meanwhile, Jack and Maggie tie the knot and delight in the development of their young daughter Hannah. Jack's relationship with his senior officer is hindered by secrets but their respect for each other is not diminished.
I enjoyed the confident writing style and the careful balance between the criminal elements and the personal dimension. I feel quite invested in Jack as a character as he has been on a significant journey emotionally whilst also having a slightly maverick tendency.
Vanished is an enjoyable police thriller and I would recommend this series.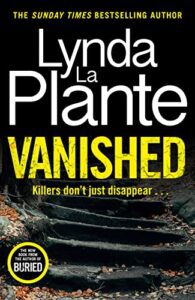 Book blurb
When an eccentric widow claims she is being stalked by her former lodger, Detective Jack Warr is the only person who believes her wild claims.
Days later, she is found brutally murdered in her home.
When the investigation uncovers an international drugs operation on the widow's property, the case grows even more complex. And as the hunt for the widow's lodger hits dead end after dead end, it seems that the prime suspect has vanished without a trace.
To find answers, Jack must decide how far is he willing to go – and what he is willing to risk – in his search for justice. Because if he crosses the line of the law, one wrong move could cost him everything . . .