Violet Parker is forced to become a housemaid to Queen Victoria and has strict instructions to attempt to reconcile the young queen with her mother. Violet struggles with her mission and her personal life is thrown into crisis when she falls in love with a man who never lets his heart rules his head…
Victoria and Violet is an historical novel set during the early years of Queen Victoria's reign. There are a couple of inaccuracies (that will annoy pedants like me!) but not enough to detract from enjoying the book overall.
Violet is a sweet young girl who has lived under her mother's control. She has much in common with the new queen who is flourishing now she is freed from her own domineering mother. Her new role in the queen's household is a dream come true but her mission overshadows her enjoyment.
Meanwhile, she catches the eye of James Greene who is an assistant to Lord Melbourne the prime minister. At first I was worried that Jack was too shallow but it soon becomes clear that he has his own demons in his past that affect any possible relationships. The pair develop a gentle yet intense romance which unfolds despite the barriers to their happiness. The book is written from Violet and Jack's third person perspectives so we get to know them equally well.
Victoria and Violet is an enjoyable novel that brings the Victorian era to life.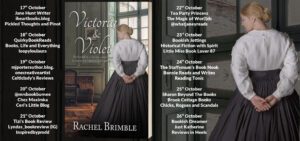 Victoria & Violet
It should be a dream come true to serve the Queen of England…
When Violet Parker is told she will be Queen Victoria's personal housemaid, she cannot believe her good fortune. She finally has the chance to escape her overbearing mother, a servant to the Duchess of Kent.
Violet hopes to explore who she is and what the world has to offer without her mother's schemes overshadowing her every thought and action.
Then she meets James Greene, assistant to the queen's chief political adviser, Lord Melbourne. From entirely different backgrounds and social class, Violet and James should have neither need nor desire to speak to one another, yet through their service, their paths cross and their lives merge—as do their feelings.
Only Victoria's court is not always the place for romance, but rather secrets, scandals, and conspiracies…

Purchase Links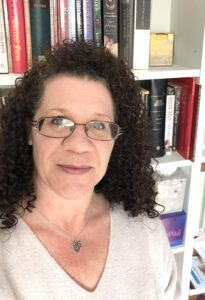 Author Bio –
Rachel lives in a small town near Bath, England. She is the author of 29 published novels including the Ladies of Carson Street trilogy, the Shop Girl series (Aria Fiction) and the Templeton Cove Stories (Harlequin). Her latest novel, Victoria & Violet is the first book in her new Royal Maids series with the Wild Rose Press.
Rachel is a member of the Romantic Novelists Association as well as the Historical Novel Society and has thousands of social media followers all over the world.
Social Media Links –