This is such a powerful book!
I will, however, give a
trigger warning

as it does deal with domestic abuse…
What She Saw tells the story of Leona, a jewellery maker who lives in the Lake District with her partner Scott and teenaged daughter Beth.
Beth is struggling with the pressure of school bullies and, as a mother, this was heartbreaking to read. Leona is haunted by memories of Ria and throughout the course of the book we learn about the relationship between the women.
Ria's life was governed by the initially charming Gareth who became increasingly controlling and then physically abusive.
One night Ria fought back…
There are lots of twists and turns in this book, hints of potential plot developments that we as readers need to wait for the author to reveal. There are several points where the reader is misdirected so as not to trust a character and this increases the anticipation and fear for the characters.
The characters of Leona, Ria and Beth share the narrative so each chapter shows one of their perspectives. This allows the reader a deeper insight into their emotional stance and is a powerful device to engage the reader.
What She Saw was really well written and totally absorbing: I can't wait for Wendy's next book!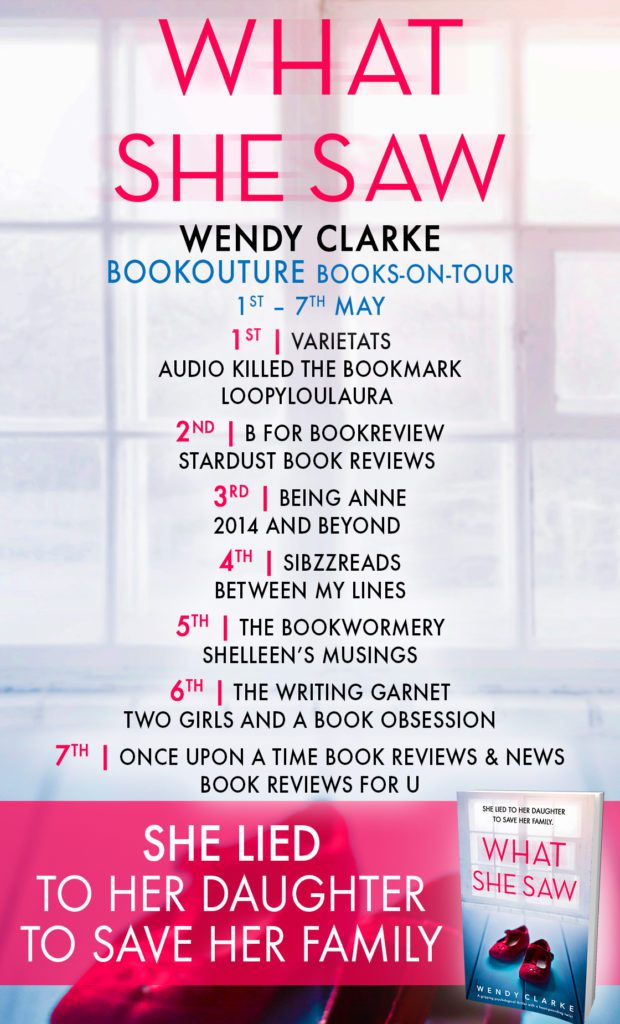 Author:     Wendy Clarke
Book:       What She Saw    
Publication Day:  01/05/2019
Buy Links:
Description:
She lied to her daughter to save her family.
Everyone knows Leona would do anything for her daughter Beth: she moved to Church Langdon to send Beth to the best school, worked hard to build a successful business to support them and found them the perfect little cottage to call home. Leona and Beth hike together, shop together, share their hopes and fears with one another. People say they're more like best friends than mother and daughter.
It's the relationship every mother dreams of.
But their closeness means that Beth struggles to make friends. Her mother has kept her sheltered from the world. She's more reliant on her mother's love. More vulnerable.
When Beth finds an envelope hidden under the floorboards of their home, the contents make her heart stop. Everything she thought she knew about her mother is a lie. And she realises there is no one she can turn to for help.
What if you've been protected from strangers your whole life, but the one person you can't trust is the person closest to home? 
What She Saw is a gripping psychological thriller with an incredible twist that will make your jaw drop. If you love The Girl on the Train, Gone Girl or anything by B. A. Paris you'll be consumed by this.
 
Author Bio:
Wendy Clarke started her career writing short fiction and serials for national women's magazines. After having over three hundred short stories published, she progressed to writing novels. With a degree in psychology, and intrigued with how the human mind can affect behaviour, it was inevitable that she would eventually want to explore her darker side.
What She Saw is her debut psychological thriller, published by Bookouture, with a second coming out in August 2019.
In her previous life, Wendy has published three collections of short stories and has been a short story judge for the Chiltern Writers Group, Nottingham Writers Group and The Society of Women Writers and journalists.
Wendy lives with her husband, cat and step-dog in Sussex and when not writing is usually dancing, singing or watching any programme that involves food
Author Social Media Links