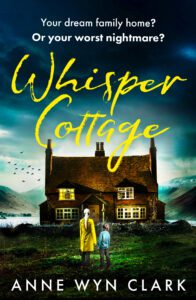 Stina and Jack are newlyweds and now expecting a baby. Stina feels uneasy about a stranger spotted in her elderly neighbour's garden but is more disturbed by the unkind attitude of the local community towards old Mrs Barley…
Whisper Cottage is a sinister psychological thriller which deals with the occult but also the secrets we hide to protect ourselves.
The main protagonist is Stina and the book is written from her first person narrative. She has had a difficult upbringing which overshadows her own pregnancy and early days of motherhood. She develops a strong friendship with elderly Mrs Barley next door but something feels off and she is worried about the mysterious stranger in her neighbour's garden.
There is a mystical element to Mrs Barley's nature with her knowledge of crystals and plants as well as her adherence to the pagan calendar. This has alienated her from the local community but Stina is sure that her behaviour is harmless. However, mysterious illnesses and injuries, even deaths, have been attributed to the seemingly benign Mrs Barley…
Stina is full of doubts about whether she can trust her own instincts. The tension grows throughout the book before coming to a satisfying conclusion with all the strands tied up. I felt a little disappointed as the paranormal element slips away in the final chapter: I wanted to stay spooked!
Whisper Cottage is an enjoyably tense and atmospheric thriller that combines spookiness with psychological components.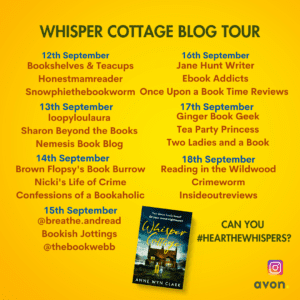 Whisper Cottage book blurb
How well do you know the woman next door?
When Stina and Jack move to an old rural cottage, they're hoping for a fresh start. Their new home is run-down compared to their neighbour's, but generous Mrs Barley quickly becomes a friend.
Until Stina sees a mysterious figure in the widow's garden, and her happy new life begins to unravel. And when she hears strange noises in the night, she is forced to question if Mrs Barley is what she seems.
Why do the other villagers whisper about her? Why is she so eager to help the couple? And what is she hiding in her picture-perfect home?

Author Bio – Anne Wyn Clark lives in the UK, in the Midlands, with her husband, son and a feisty chinchilla. She has three (now grown-up) children and five grandchildren. She is particularly partial to Italian food, decent red wine (or any coloured wine come to that…) and cake – and has been known to over-indulge in each on occasions. Anne is passionate about animals and their welfare. Whilst she has enjoyed writing for many years, a love of all things gothic inspired her to try her hand at producing something dark and twisty, culminating in the haunting Whisper Cottage.