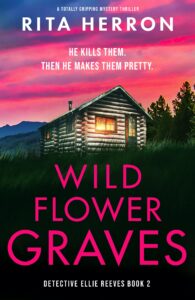 Monday's child is fair of face. But the woman that has been murdered no longer looks so fair. Tuesday's child is discovered next. Will Detective Ellie Reeves be able to stop the killer before the rhyme is complete and seven women are dead…?
OMG what a book! Wildflower Graves is a wonderfully gruesome thriller. It is the second in the Ellie Reeves sereis from Rita Herron but I have not read the first. I suggest that you read the first, not just because I assume the writing style and plot are as good as this one, but due to the multiple references to plots twists and the conclusion of the last book.
Ellie Reeves is struggling both personally and professionally due to the outcome of the previous case. Relationships have been left in tatters and she is being hounded by the media. Now a serial killer is contacting her, taunting her with the dead women she could not save. I liked Ellie's character and could understand her troubled emotions in relation to her family and colleagues.
The majority of the book shows us the police perspective but there are some chapters that give us insight into the victims and killer. We then share Ellie's desperation to find her friend Shondra who is being tormented by the killer but is still alive.
My own personal preference is for short chapters and this book has those. My eyes gobbled up the plot as it races along. The use of the weekdays for the killings meant that events occur quickly and you can feel the tension as the police attempt to find clues.
Overall, I loved Wildflower Graves and will now track down the first book in the series even though I know the outcome!
RITA HERRON MEDIA PACK:
Title: Wildflower Graves
Author: Rita Herron
Buy Links:
Description:
The darkness closed around her. She tried to clear her vision, but there was no light, no noise, nothing. Only the emptiness, the echoing sound of being alone. Fear pulsed through her. The man had come out of nowhere. Who was he? Blinking away tears of frustration, in the pitch black she felt the floor and walls surrounding her. Cold. Steel. Bars.
Detective Ellie Reeves heads into the wilds of the Appalachian Mountains when she wants to get lost––to forget the whispers chasing her and the past that keeps her up at night. She's sick of having to prove herself to her small town.
But hiking in the endless miles of woods isn't the escape she was hoping for. One night, as dusk falls, a gust of wind blows some petals on to Ellie's path. Following the trail, she finds a golden-haired young woman dead on a bed of daffodils, with a note: Monday's child is fair of face.
When Ellie emerges from the forest, there is a message on her phone. Someone has sent her a picture of her colleague, Officer Shondra Eastwood, with the words: Can you find her, Detective Reeves? Ellie is racked with guilt––while she was busy hiding from life a killer was on the loose, and he has taken her beloved friend.
The wilderness, and its shadows, are the perfect hunting ground for a criminal––but what does the sinister nursery rhyme mean? It soon becomes clear when another dead woman, Tuesday's Child, is found.
Ellie is up against a serial killer who will claim a victim for every day of the week, and in the next twenty-four hours there will be another body. As this ruthless murderer closes in on her, can she save more innocent women––and Shondra––from his clutches? Or will he get to Ellie first?
An utterly gripping and completely breathless crime thriller for fans of Lisa Regan, Kendra Elliot and Melinda Leigh. You'll have trouble falling asleep after this heart-pounding page-turner!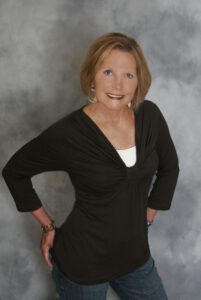 Author Bio:
USA Today Bestselling and award-winning author Rita Herron fell in love with books at the ripe age of eight when she read her first Trixie Belden mystery. But she didn't think real people grew up to be writers, so she became a teacher instead. Now she writes so she doesn't have to get a real job.
With over ninety books to her credit, she's penned romantic suspense, romantic comedy, and YA novels, but she especially likes writing dark romantic suspense and crime fiction set in small southern towns.
Author Social Media Links: