Jen is sat at home waiting for her 18 year old son Todd to come home. She finally sees him on the street outside but he is approached by a man and stabs him. Jen is stunned as her son is taken away by police but when she wakes the next morning to find herself 24 hours in the past, Todd is back home and the murder hasn't happened yet…
Wrong Place, Wrong Time is an absolutely fascinating novel. I have joined a local book club and this was May's choice. There were some strong opinions, including mine!
Jen is horrified to witness her son commit murder. She then begins a journey back in time to follow the threads that led to the man's death. The premise of the book is brilliant: how far back in time does she need to go?
The narrative structure is quite jarring until you get used to it. The sentences are short to represent Jen's troubled mind. I didn't particularly like the style of writing initially so I found it difficult to get into the first quarter of this book and even considered giving up!
However, the amazing plot meant I couldn't put this book down! The twists come thick and fast. I found myself grinning (perhaps even jumping up and down!) every few chapters as another twist was revealed and changed my perception of the plot and characters. The 'wow' moments of realisation are just superb.
Wrong Place, Wrong Time is a gripping book once you settle into the style and plot. So clever and skilfully crafted.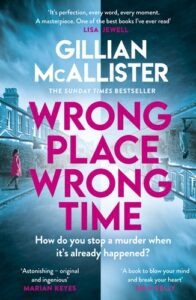 Book blurb
Can you stop a murder after it's already happened?
It is midnight on the morning of Halloween, and Jen anxiously waits up for her 18-year-old son, Todd, to return home. But worries about his broken curfew transform into something much more dangerous when Todd finally emerges from the darkness. As Jen watches through the window, she sees her funny, seemingly happy teenage son stab a total stranger.
She doesn't know who the victim is, or why Todd has committed such a devastating act of violence. All she knows is that her life, and Todd's, have been shattered.
After her son is taken into custody, Jen falls asleep in despair. But when she wakes up…it is yesterday. The murder has not happened yet—and there may be a chance to stop it. Each morning, when Jen wakes, she is further back in the past, first weeks, then years, before the murder. And Jen realizes that somewhere in the past lies the trigger for Todd's terrible crime…and it is her mission to find it, and prevent it from taking place.
Both the story of a mother's love and the sacrifices she will make for her child, and a thriller with a brilliant twist, Wrong Place Wrong Time is a one-of-a-kind novel that begs to be read in one sitting.
About the author:
Gillian McAllister is the Sunday Times and New York Times bestselling author of the following novels which are all standalone and can be read in any order:
Everything But The Truth (2017), Anything You Do Say (2018), No Further Questions (2018), The Evidence Against You (2019), How To Disappear (2020), That Night (2021), Wrong Place Wrong Time (2022).
You can find her on Twitter and Instagram @gillianmauthor and at http://www.gillianmcallister.com.