I love Christmas trees and recently made one out of toilet rolls. So I got my thinking cap on and grabbed my scissors to make two new Christmas tree designs.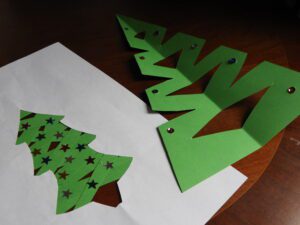 I'm sure every child has made snowflakes by folding and snipping paper. I adjusted this for the first craft 🙂
First take a green A4 sheet of green card and fold in half length ways.
Draw a line from the centre top to the bottom outer edge and then cut along the line. Do not throw away these cut off pieces as you can use them for the second craft.
Next make small triangular snips along the inner and outer edge, starting on the straight midline near the top and growing in size.
Unfold but leave slightly angled. I suggest decorating both sides as it can be displayed in either direction for a varied effect.
On to craft number two. Take a piece of white A4 paper or card and fold lightly at the centre length ways. Cut out a Christmas tree shape.
Use the cut off green pieces from the first craft to make strips of green card that are about 1cm wide.

Next glue around the edges of the tree and arrange the green pieces to cover the gap in the paper.
Use sequins of glitter to decorate.