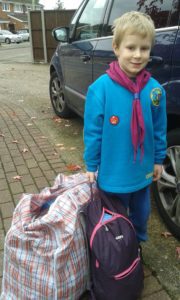 This is Matthew all set for his first sleepover away from family (he's stayed at mum and dad's loads of times). He cried for most of the previous SIX hours because he didn't want to leave me. I veered between reassuring him and being annoyed. I reminded him that he is without me everyday at school. I told him that everyone gets nervous but being brave means going ahead with it anyway. I told him that the last time I was worried like this it had been before going into hospital to give birth to Zach. I laughed that he was lucky to escape Anya's snoring (she has a cold). I threatened him with having to pay me back the money I'd paid in advance. I bribed him with lego and trains.
Anyway, so we arrived at the scout hut and he ran off straightaway to join in a dodgeball style game. He abandoned me so quickly the scout leader gave me a funny look and asked if I'd brought a child along! I called Matthew back over to check he would recognise his bags and say goodbye. He gave me a quick hug and ran off again.
I was glad and so so proud. I also got choked up every time I thought of him away from me, growing up and not needing me. But I remember my mum saying that children need to move away physically and emotionally otherwise you've failed as a parent. She's right of course!
But then halfway through brushing my teeth before bed I got the phone call asking me to go and pick him up. I was so disappointed with him but also disappointed FOR him. He has lost the opportunity to sleep away from home and be with his friends, to make a joint experience that may last a lifetime.
And I DO understand. I didn't go to 2 residential trips at secondary school because I was afraid of the activities and being away from home. Now I regret it. The other children in my year cemented friendships and made new ones. They shared an experience to which I would always be an outsider and I don't want Matthew to grow up with the same regrets.
I love all three of my children but if they stay tied to my apron strings then I have failed as a mother (another of my mum's favourite quotes from when I was still living at home in my 30s!). Maybe some tough love is required but they HAVE to learn to cope without me and for Matthew it is hardest because he is the oldest and has to do it first.