Beale Park is one of those places that we have driven past many times on our way to visit friends or going somewhere else. With sun in the forecast we decided to make the most of the good weather and planned a trip. We bought our tickets online in advance and arrived as it opened at 10am. There is plenty of free parking on site and we quickly headed in to begin our adventure.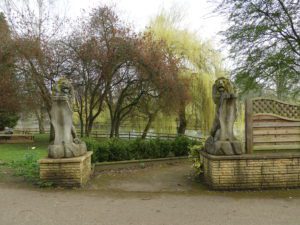 Obviously a trip to the toilets was first on the agenda (I have had 3 children you know!) and then we started to explore the park.
Matthew was fascinated by the birds due to their link to dinosaurs. We got to see many peacocks roaming around the site as well as ducks and geese that were loose. There are warnings up not to feed the animals but there is one point where you can buy bird seed.
Chris and I enjoyed a trip down memory lane in the Treasured Toys exhibit and I know my parents would have loved it. I wish they had more items from the 80s!
The Pirate Island play area was fab and when we went there the first time there was hardly anyone else around so the kids were able to go on all of the equipment.
There is a bug and reptile house which included my favourite: tortoises!
Time for more animals and then we headed for the train ride. Right near the end there are lovely statues on the hillside and I would have loved to spend more time spotting them!
Next we headed over to the rope play area and had some climbing fun and some lunch. I was a bit worried that the equipment would be too big but Matthew and Anya coped well. There was also a small slide to keep Zach entertained.
After lunch we headed over to see the owls and other animals at the far end of the park that we had seen from the train ride. Again the owls proved popular with the children due to the link with dinosaurs. Zach had fallen asleep by this point and even the screams of Matt and Anya on the zipwire didn't wake him up!
One final visit to the pirate playground before we finished up by visiting the model boat exhibition and tranquil gardens. Chris spotted some triffids! (see the video below) (seriously though, if you know what they are let me know!) We stood on the Japanese bridge for ages and they some carp came along: the children had never seen such big fish before!
In total we spent 4 hours at Beale Park and had a great time. There were things we would have loved to do again such as the train ride but we were very tired!