Over the summer

Lego Ninjago

was all that we talked about in our house. However, Matthew has now chosen a new passion: dinosaurs!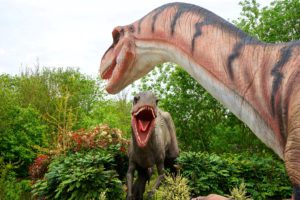 I know more about dinosaurs than many other women my age 🙂 so I thought I would give Matthew a chance to share some of his knowledge.
First of all an A to Z of dinosaurs:
Allosaurus, Baryonyx, Coelophysis, Dilophosaurus, Edmontonia, Fukuisaurus (I kid you not! be careful how you pronounce it!), Giganotosaurus, Hypsilophodon, Iguanodon, Jaxartosaurus, Kentrosaurus, Lambeosaurus, Muttaburrasaurus, Nothosaurus, Ornithomimus, Protoceratops, Quetzalcoatlus, Rhamphorhynchus, Stegosaurus, Tyrannosaurus rex, Utahraptor, Velociraptor, Wuerhosaurus, X (sorry I don't think there is one!), Yinlong, Zuniceratops.
This would be a good starting point for a car game: we play this all the time (girls names, boys names, food, illnesses, body bits are some of the other popular ones).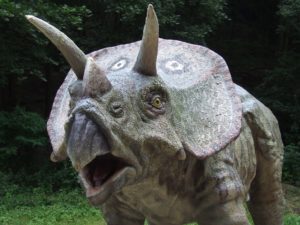 Some amazing facts for you: we are closer in time to T Rex (65 million years apart) than T Rex is to Stegosaurus (80 million years apart)!!!
Brontosaurus is argued about by scientists. First it was a dino. Then it was actually an apatosaurus. Recent research believes it did in fact exist as a separate dinosaur species to apatosaurus.
Dinosaurs have more DNA in common with modern birds than with modern reptiles.
Pteranodon was not a dinosaur. It was a flying reptile. Ichthyosaurus was not a dinosaur. It was a marine reptile.

OK so let's finish up with a little quiz (answers at the bottom of the page (no cheating!)
How many wings did the microraptor have? a) 2 b) 4 c) 6

How many different types of dinosaur have been found in the UK?

Which of these is not a real dinosaur? a) Dracorex hogwartsia b) Vegesaurus c) Irritator

Some plant eaters had over 1000 teeth. True or false?

What were the names of the continents during the Jurassic? Gondwana and… a) Chrisia b) Laurasia c) Anyana
Answers:
Microraptor had 4 wings
25 types of dino in the UK.
Vegesaurus is NOT real. Dracorex hogwartsia IS real but may turn out to be a young pachycephalosaurus.
True! Some duck billed dinosaurs had up to 1400 teeth
Laurasia (hugely excited that we almost share a name 🙂 )