Two of our favourite brands that were given as gifts by my sister this Christmas, yay!
My mum and I are huge puzzle fans but poor Anya rarely get a chance due to a lack of space and clumsy siblings 🙂 but it is an important talent to develop as it improves hand-eye coordination, problem solving and concentration.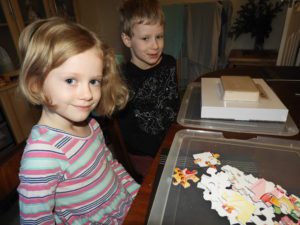 This Shopkins set of 4 puzzles are fun and bright, full of our favourite characters and lots of detail-. Anya loved them.
Now onto the Jurassic World dinosaur excavation set. This one is a bit more complicated to review. As you know from my older posts, Matthew is obsessed with dinosaurs and this set really captivated him.
The tools provided in the set are difficult to use and hurt our hands. Halfway through, I decided to try getting the block wet which made it slightly easier. Oh my goodness, the mess! I was relieved I had put a tray down to catch all of the dust and lumps. It was highly addictive and I kept chipping away sneakily whenever Matthew left the room. There was huge excitement every time we located a new bone or managed to remove it from the block.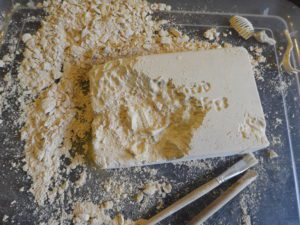 The model was a little tricky to put together as some of the block clogged the holes. But then disaster struck! The tip of the tail was missing 🙁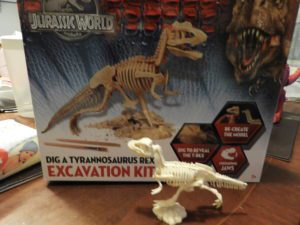 I tried to contact the manufacturer to request a replacement and was completely ignored 🙁
Then I tweeted The Entertainer which was where my sister had bought the set. I didn't think they would be able to help as the activity had been completed and it was a parts issue.
Wow, talk about customer service! I was immediately offered a replacement set and it arrived the very next day! And here is our completed dinosaur: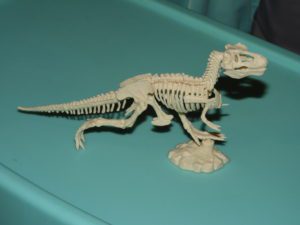 Thank you so much to The Entertainer for being so wonderful!