We went to the playground. As we pulled into the car park the rain and hail began. We sat there horrified then came home.
Luckily I had been sent the Cozy Cats and Dozy Dogs sets by Fuzzikins so I didn't need to panic about keeping the kids entertained on a rainy day in half term.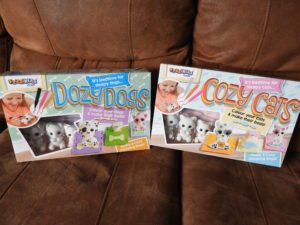 The premise of the sets is that you colour the cats and dogs however you want, and then you can make them a sleeping bag with other accessories too. Each set has a small, medium and large figure. The packaging has a practice area so you ca try out designs before drawing on the figure but the pens provided are washable so no need to panic about mistakes.
Perfect for inspiring creativity and imagination, it also helps develop hand-to-eye co-ordination and fine motor skills. There are some small pieces so the sets are recommended for ages 4+.
Matthew designed his with a dinosaur theme and even drew teeth! Anya was all about colour, lots of it! I couldn't resist having a go myself but went for simple and understated (and purple!)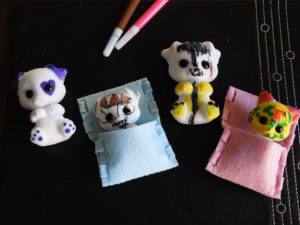 I would have liked a greater range of colours. Matthew refused to use pink which further limited his options. I found some other felt tips to use but they are probably not washable so the patterns may be permanent (not a problem as I think we are all really happy with them!)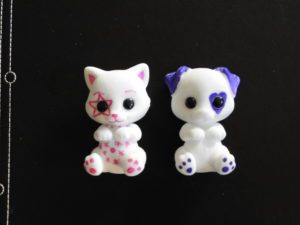 Fuzzikins Cozy Cats and Fuzzikins Dozy Dogs sets are £9.99 rrp each and are available from a range of retailers, including John Lewis and Amazon. There are play sets available too which look like amazing fun.
You have a chance to win your own Cozy Cats and Dozy Dogs sets. One lucky winner will receive 1 of each set just like I did! Enter below and good luck:
Win 1 Dozy Dogs and 1 Cosy Cats set!

[amazon_link asins='B01ISP6RW8,B01J8X54FK,B0737896SD,B01LCSPAYE' template='ProductCarousel' store='tiredmummyblog-21′ marketplace='UK' link_id='4f970812-12a2-11e8-b6b0-114805dc26ea']
*I was sent these sets for the purpose of the review. All opinions, photos and video are my own.