Next we wanted to go to Yarmouth Castle to once again make use of our English Heritage membership. The sat nav was not our friend 🙁 We drove in circles down one way streets until we decided to give up and park in a car park and then wandered around on foot.
First we discovered the pier, The floor boards all have sponsor names on and this was a lovely idea. The children were a little afraid being out over the sea but soon relaxed and enjoyed the views. Except Zach, he was asleep the whole time…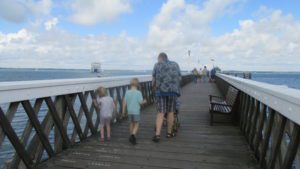 Suddenly we found the castle! It is a lot smaller than 

Carisbrooke

and had a different purpose: sea defence.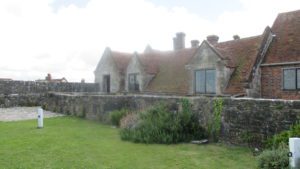 I took the older 2 upstairs to explore the rooms while Chris waited with Zach. When he finally woke we were able to get him out of the pushchair for a run around the cannon!
At last we decided to move on and visit Fort Victoria, another sea defence.

Inside the old fortifications are a range of attractions and we couldn't help but visit the model railway! On entry we were given a sheet of paper with things to look out for, I think we only missed one but my eyes couldn't cope with any more searching 🙁
There wasn't time to enjoy any other of the attractions so we spent some time relaxing on the beach before returning ot the Carthouse for the evening.